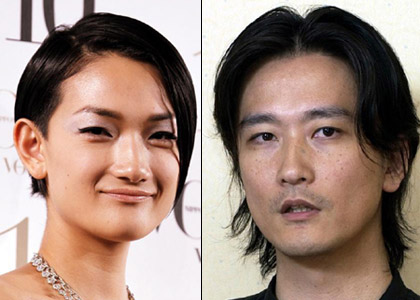 The latest showbiz gossip brings together a couple who've both been on the romantic roller coaster. Model Tominaga Ai (28) dropped a hint last month that her love life was healthy but didn't name any names. But according to the Sankei Sports newspaper it turns out that the man in her life is none other than photographer/film director Kiriya Kazuaki (42). The two divorcees have been spotted out on dates in and around the capital several times this year.
Kiriya married J-pop star Utada Hikaru (27) in September 2002, a marriage that lasted four and a half years. Some saw it as the relatively unknown Kiriya riding on his wife's coat tails, and during the next few years he directed promotional videos for her and made his big screen debut with "Casshern." Tominaga married a Paris-based Japanese patissier in October 2004 and gave birth to a baby boy the following March. But that marriage ended in April of last year and she and her 5-year-old son moved back to her family home in the Tokyo suburbs. With her son starting school next spring, Tominaga recently bought a home in the city, which also allowed her and Kiriya to spend more time together.
Utada's Final Round
In related news, it was announced that Utada will provide the theme song for the latest big screen adaptation of the popular boxing manga/anime "Ashita no Jo." The new song, "Show Me Love (Not a Dream)," was recorded for her upcoming hits album but was also penned at the request of the movie's director, Sori Fumihiko (46). Starring Johnny's Jimusho aidoru Yamashita Tomohisa (25), the movie opens on February 11, 2011. Utada recently announced that she will be taking an indefinite break from her music career. Her final scheduled live performances, at the Yokohama Arena on December 8-9, will be broadcast live at 69 cinemas across the country.