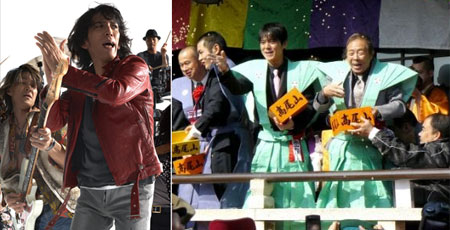 Some wedding news…and rumor. Talento Diamond Yukai (46, photo left) is engaged to get married for the second time, he revealed yesterday. The former vocalist of popular 90s rock band Red Warriors is to tie the knot on January 7 with an office worker said to be in her 30s. The couple have been living together for about a year and are currently awaiting completion of a new house in Tokyo. Yukai made the wedding announcement while filming the "Odoru! Sanma Goten!" variety show yesterday. He said, "Up to now I've always gone for a woman who is like a rose with thorns. But this lady is like a dandelion discovered during a walk in the country. Dandelions bloom for a long time!" Yukai made his debut with Red Warriors in 1986 and had his big screen debut the following year with the lead role in "Tokyo Pop." More recently, he had a part in Sophia Coppola's "Lost in Translation" (2003).
And enka singer Kitayama Takeshi (34, photo right) is said to be on the verge of marriage to the daughter of his mentor. Kitayama has been a "tsukibito" (apprentice) to veteran singer Kitajima Saburo (72, profile) since 1998. And for the last few years he has been dating his daughter Satoko (35), who works for his Kitajima Ongaku Jimusho management agency. The singers, and possible future in-laws, appeared together at a traditional setsubun ceremony at a temple in western Tokyo yesterday, throwing out beans to the crowd to usher in good luck for the year ahead.
• Popular rakugo veteran Katsura Utamaru (72) was rushed to a Yokohama hospital on Monday. He was diagnosed with pulmonary emphysema and told he would need to take at least a week's total rest. As he was scheduled to attend a rakugo event in Tokyo on Monday evening, he tried to leave the hospital with an IV drip. Doctors refused to let him leave saying he would endanger his life. He asked fellow rakugo-ka Sanyutei Koyuza (61) to attend the event in his place. He is expected to recover in time to film the February 14 edition of NHK's "Shoten," the rakugo show for which he is the emcee.