Japan Entertainment News - March 2006
| | |
| --- | --- |
| Stars Breaking Up | March 31, 2006 |

Talento Asagi Kuniko (43) held a press conference yesterday to announce her divorce after 12 years of marriage to composer Matsumoto Akihiko (43). She registered their divorce at the local municipal office in person. Asagi said the main reason for the split was lack of communication, which is ironic as she and her ex are renowned for their conversational ability. She also cited their busy schedules that rarely allowed them to spend much time together as a family. Asagi has custody of their only daughter, born just months after their marriage in 1994, while Matsumoto has parental authority. The couple were childhood friends and married after they met again years later. Asagi first went into modeling after dropping out of Gakushuin University, and made her acting debut on NHK in 1987. Over the following decade, she built up her career and popularity as an emcee and variety show guest. Matsumoto is best known as the composer for the "Odoru Dasosasen" movie series.
• Also getting divorced yesterday was actor Hagiwara Kenichi (55), who separated from his second wife of nine years. Hagiwara has had a troubled few years, causing a traffic accident in 2004 and being questioned by authorities for attempted blackmail last year. He and former makeup artist Yuki agreed on a settlement at the Yokohama Family Court on March 30.
• Singer Gackt is to make his TV drama debut in next year's yearlong taiga series on NHK. In "Fuurinkazan" he will play legendary medieval warlord Uesugi Kenshin (1530-78). It will also star stage actor Uchino Masaaki (37) in the lead role of Yamamoto Kansuke and kabuki actor Ichikawa Kamejiro (30)as Uesugi's rival, Takeda Shingen. The title of the series is an expression that translates as "as fast as the wind, as quiet as the forest, as daring as fire, and immovable as the mountain". Despite having the ability to play a variety of musical instruments and speak several languages, the multi-talented Gackt has continued to maintain his quirky image and hide his age, though he has shown in many commercials that he's not afraid to poke fun at himself. He wrote and starred in the 2003 movie "Moon Child", but the former singer for visual rock band Malice Mizer has focused more in the last couple of years on his solo music than on acting. At the end of last year, he took on the image of a medieval knight on horseback for his first concert at Tokyo Dome. In the upcoming taiga series he says he hopes to revive Japan's lost "samurai spirit".
Interesting story? Then add it to your favorite social site:







| | |
| --- | --- |
| Sweet Goddess | March 30, 2006 |
The "Gorgeous Kano Sisters" offered the first look at their latest photo book yesterday. "Sweet Goddess", which goes on sale April 3, features younger sister Kano Mika (38) in full nude poses for the first time (rumored pre-fame porn video appearances notwithstanding). While the taboo about showing pubic hair was broken back in the early 90s, celebrities still try to squeeze as much publicity as they can from so-called "hair nude" photos. The sisters have probably more female than male fans and their books are marketed as works of art and beauty. The photography was done by elder sister Kyoko (42), and a DVD included with the book shows the sisters in various exotic foreign locations. Rarely-seen third "sister" Harue was also at the PR event.
• Mongolian sumo Yokozuna Asashoryu (25) may feature in an upcoming joint Japan-Mongolia movie production. The biopic about legendary leader Genghis Khan, starring Sorimachi Takashi, is due for release in the spring of 2007. It has a budget of about ¥3 billion and will use 5,000 Mongolian soldiers and 20,000 civilians as extras. Production director Kadokawa Haruki (64) says he aiming for the movie to be seen by 100 million people worldwide. While on a recent visit to Mongolia, he was presented with a traditional musical instrument by the sumo superstar, who expressed a wish to appear in the movie.
• Korean star Ahn Jae Wook (34), known as the "Asian Knight" was welcomed by 1,000 screaming fans at Narita Airport yesterday. He's in Japan to promote his latest album, "Sounds Like You", and to play his first concert here at NHK Hall in Shibuya, Tokyo on March 31.
Interesting story? Then add it to your favorite social site:







| | |
| --- | --- |
| Masako's Shocking Week | March 29, 2006 |
The father of singer Mori Masako (47) lost his long battle with illness just hours after his daughter announced her comeback after 20 years. Morita Tsuneo died of liver failure last night at a Yokohama hospital. He was 75. Mori rushed to his bedside but arrived after he had passed away. She made her comeback announcement to the media on Monday, having waited for her youngest son to finish his junior high school entrance exams but always concerned about her father's failing health. (see yesterday's story for more)
• Popular group SMAP have announced their first new single of the year. "Dear Woman" will be released on April 19 and is an ode to all Japanese women. It will feature on the new TV commercial for Shiseido's "Tsubaki" hair products.
• The latest rankings of the the most popular TV anime, according to Video Research:
Crayon Shinchan (TV Asahi) - 11.8%
Chibi Marukochan (Fuji TV) - 10.1%
Doraemon (TV Asahi) - 9.8%
Manga Nihon Mukashibanashi (TBS) - 8.8%
One Piece (Fuji TV) - 8.7%
Futari wa Puri Cure (TV Asahi) - 8.4%
Naruto (TV Tokyo) - 6.1%
Interesting story? Then add it to your favorite social site:







| | |
| --- | --- |
| Diet Coke, Please | March 28, 2006 |

Sexy singer Koda Kumi (23) is the new face of Diet Coke. The singer, whose look has popularized the phrase "ero-kakkoii" (sexy-cool), will play a dancing flight attendant and show plenty of cleavage as usual in the new TV commercial due to air from April 3. The corresponding ad for regular Coke will feature Yokoyama Ken, singer of the Crazy Ken Band, on location in Hawaii.
• Popular group KAT-TUN have pulled off a feat no artist has ever managed before, with their debut single (Real Face), album (Best of KAT-TUN) and DVD (Real Face Film) all entering the Oricon charts at No.1. It's only the second time that one artist has been top of all three charts (Hamasaki Ayumi did it in 2000). They recently announced and sold out a show at the 55,000-seat Tokyo Dome, also a first for an artist yet to release a song. While these feats are impressive, the Johnny's Jimusho unit are hardly newcomers. Formed in 2001, they have often played live, often performing with other Johnny's groups such as Tokio and V6. Members have appeared in popular TV dramas, such as NTV's 2005 hit "Gokusen". Kamenashi Kazuya teamed up with fellow Johnny's band NEWS member Yamashita Tomohisa last year as the duo Shuji to Akira, releasing three singles, one of which became the year's first million-seller. The name KAT-TUN is made up of the initial letters of its six members, all in their early 20s.
• Singer Mori Masako (47) is to release her first new song in 20 years. The first singer dicovered by "Sutaa Tajou" (A Star is Born) in 1971, she was one of that decade's three most popular idols, along with Yamaguchi Momoe and Sakurada Junko. The legendary Misora Hibari described her as the only one who could fill her shoes. But in 1986 she married enka singer Mori Shinichi (58), with whom she had three children, and retired from performing. She returned to the stage with her husband in 2001, appearing on the NHK "Kohaku Uta Gassen" song spectacular. They performed as a couple for several years, but ended up in divorce in March of last year.
Interesting story? Then add it to your favorite social site:







| | |
| --- | --- |
| Shunning Success | March 27, 2006 |

Vocalist Shun (26) is to drop out of popular dance/vocal group Exile. Currently at the peak of their success, the six-member group will continue under the leadership of Hiro (36) but their new album will be their last with the current lineup. "Asia" and a live DVD are due out on March 29, which will officially be Shun's last day with the group. He has already been pursuing his solo career, performing and showing his calligraphy art under his real name Kiyokiba Shunsuke. Exile was formed by Hiro as a five-member group in 1999. After one member quit in 2001, two more were added after an audition, including Shun. Exile have released 21 singles and five albums, with sales totaling over 9 million copies.
• Talento Takada Mariko (35) is pregnant with her second child. The Tokyo University graduate has been married to famous violinist Hakase Taro (38) since March 1999. They had a daughter in July of the same year. Takada announced the pregnancy during her regular morning TV slot on "Sunday Japon" on TBS yesterday.
Interesting story? Then add it to your favorite social site:







| | |
| --- | --- |
| Horrific Return For Miki | March 25, 2006 |
Actress Nakatani Miki (30) is to make her return to the world of horror. Seven years after appearing in "Ringu 2", she will star alongside Toyokawa Etsushi (44) in Kurosawa Kiyoshi's "Lofuto" (The Loft) this autumn. The movie plot is based around a thousand-year-old mummy, and Nakatani promised horror fans a spine-chilling experience.
• It was revealed on Friday that struggling comedian Matsumoto Ryusuke (49) is in a coma after suffering a stroke at his home in Osaka on Wednesday night. From the mid-70s to mid-80s he was one half of the manzai duo Shinsuke Ryusuke with popular talento and emcee Shimada Shinsuke (50). They shunned the standard suits for rockabilly hairdo and a "yankee" look, launching a new style of "tsuppari manzai". From 1985 he had a briefly successful solo career but ended up in bankruptcy after leaving the Yoshimoto Kogyo management agency in 1997. He has tried several times to get his career back on track, including teaming up with his son in 2002 to enter a talent contest (they lost in the first round).
• Popular NTV announcer Nishio Yukari (28) was recently spotted spending the night at the Tokyo home of a high-flying TV commercial planner, according to weekly magazine Friday.
Interesting story? Then add it to your favorite social site:







| | |
| --- | --- |
| Kiss, Santana For New Major Summer Fest | March 24, 2006 |
Concert Promoters Udo have lined up some huge names for their new summer rock festival. Rock legends Kiss, Santana and Jeff Beck are among the 30 or so acts due to play the first Udo Music Festival. Like the annual Summersonic event, the festival will take place in two venues, one in the Kanto region, the other in Kansai. The Kanto festival will be held at Fuji Speedway in Shizuoka Prefecture on July 22 and 23 and an audience of about 100,000 is expected. The Kansai event will welcome about 50,000 at the new Izumiotsu Phoenix in Osaka on the same dates. The Fuji Speedway will have small, medium and large stages. Just an hour from Tokyo on the Tomei Expressway and with considerable parking space, it offers a good alternative to the train and bus-only access of other festivals. Kiss will be making their ninth visit to Japan and it will be their first outdoor show here. This will allow them to pull out all the stops with pyro effects and fireworks. Japanese fans can look forward to seeing guitar gods Carlos Santana and Jeff Beck on stage together for the first time in 20 years. Details of ticket prices and advance sales will be released soon.
• The Tokyo District Court dismissed an indictment against Nigerian talento Bobby Ologun (photo, 39) yesterday. The K-1 fighter was in court after starting a brawl over a financial dispute at his management agency in January. The court decided he had already received sufficient "social punishment".
• Comedian Matsumoto Kouta (26) revealed on a variety show yesterday that he is romantically involved with a fan. One half of the popular duo Regular, best known for their "aru aru tankentai" routine, he said he met his "future wife" when she bought a ticket to their show and asked him out to dinner.
Interesting story? Then add it to your favorite social site:







| | |
| --- | --- |
| Takki Sets Ginza Alight | March 23, 2006 |
A fire broke out yesterday during a stage performance starring idol singer and actor Takizawa Hideaki (photo, 23). A full house of about 1,400 audience members and 200 staff were evacuated during the show at the Shimbashi Embujo theater in Ginza, with 36 people suffering from slight smoke inhalation. The fire broke out around 6:30pm, about 30 minutes into the show. "Takki" was singing on stage when the flames were first spotted but suffered no injuries. Prop and costume storage rooms in the basement suffered extensive damage but the fire was put out by about 7pm. Two shows sheduled for today have been cancelled.
• Actress Esumi Makiko (39) is making her TV drama comeback after two years, during which time she became a mother. She will appear in NHK's Saturday night drama "Machiben" from April 8, in which she'll play a lawyer who works to help common people.
• Another comeback later in the year will see Yokohama Gin Bae back on stage. The popular 80s rock band had to cancel a show in April 2003 when singer Tamiya "Sho" Masakichi (44) was arrested for possession of stimulant drugs. He did 16 months of prison time for a previous offence back in 1998. The band will celebrate their 25th anniversary with a show at Yokohama Blitz on June 9. leader and drummer Arashi Yoshiyuki (50) suffered a stroke in 2004 and is currently in rehabilitation. He says he hopes to back for the band's 30th anniversary, adding that he wants the show to be held at the Nippon Budokan.
• Veteran rakugo performer Sanyutei Enu died last night in Tokyo of prostate cancer. He was 82. He appeared in TV commercials for soap and incontinence pants.
Interesting story? Then add it to your favorite social site:







| | |
| --- | --- |
| Now Appearing at Terminal One... | March 22, 2006 |
Idol singer and former Morning Musume member Goto Maki (20) yesterday became the first pop act to perform at Narita Airport. 250 fans were selected by lottery to watch the performance, broadcast live on BayFM. The brief show was held in the southern wing of Terminal One, which is currently undergoing renovations and due to reopen in June.
• Yesterday's final of the World Baseball Classic, which saw Japan crowned as the World's No.1, drew a TV audience rating of 56%, according to Video Research. It's the highest rating for any show so far this year, and the third-highest ever for a baseball program. The figure only covers TVs in private homes, and doesn't include the tens of thousands of people who watched the games in electrical stores, sports bars and on outdoor big screens across the country. The nation's enthusiastic support for its national baseball team stands in stark contrast to rapidly declining audience figures in recent years for the Yomiuri Giants, the country's most popular team.
• Pop group Kome Kome Club are to reform nine years after they broke up. Last June they played a few songs at the 50th birthday party of musician Char and decided to start working together again in the future. Starting from April 1, they will get back together as a group, releasing a single in July and an album in September, to be followed up by a nationwide concert tour. But currently there are no plans to stay together after the end of October. The group gave a farewell concert at Tokyo Dome in March 1997, after which members including vocalist Ishii Tatsuya (46) pursued solo careers. With a pair of dancers and a horn section, Kome Kome were one of the most colorful bands of the 80s and early 90s and were famous for their elaborate stage shows.
• Composer Miyakawa Hiroshi died of heart failure at his Tokyo home yesterday. He was 75. Best known in recent years as the conductor of the closing theme for the Kohaku Uta Gassen every New Year's Eve, he composed over 10,000 tunes in his time. These included many TV themes, including the theme for the hugely popular anime series "Uchusenkan Yamato", as well as hits for such 60s pop acts as The Peanuts. His son Akira is also a composer and wrote "Matsuken Samba II", the hugely successful 2004 hit for Matsudaira Ken.
Interesting story? Then add it to your favorite social site:







| | |
| --- | --- |
| Oh Japan World No.1 | March 21, 2006 |
Today is Shunbun no Hi (Vernal Equinox), a national holiday.
• Japan is officially No.1 in the baseball world. The Japanese baseball team beat Cuba 10-6 in the final of the inaugural World Baseball Classic this afternoon (Japan time) to become the first World Champions of baseball. With contributions from MLB stars like Ichiro (photo, sliding into home plate in the 9th inning) and home-based players such as slugger Matsunaka Nobuhiko and catcher Satozaki Tomoya, the Japanese team overcame some nervy middle innings with a 4-run spurt in the top of the ninth. Former San Diego Padres pitcher Ohtsuka Akinori took to his old mound for the last four outs to put the final nail in Cuba's coffin. Managed by baseball legend Oh Sadaharu, the Japan team's exploits have been followed by a huge TV audience here at home - the audience rating for the semi-final against South Korea was a whopping 50.3% - and are sure to return home to a real heroes' welcome. Ichiro was singled out by TV reporters for their first "hero interview" and he was clearly overcome by the achievement. "Amazing! I'm so happy. What a great team!" he said, grinning from ear to ear. He, Satozaki and starting pitcher Matsuzaka Daisuke were named to the WBC Best Nine, while Matsuzaka was named tournament MVP.
Interesting story? Then add it to your favorite social site:







| | |
| --- | --- |
| Nagabuchi Honored in Stone | March 20, 2006 |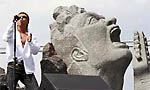 A monument was unveiled yesterday to rock star Nagabuchi Tsuyoshi (49). In August 2004, the singer/songwriter drew more than 75,000 fans to an all-night rock concert in his home town of Sakurajima in Kagoshima Prefecture. The town showed their appreciation for the economic benefits they gleaned from that event by commissioning a 50-ton stone statue of their favorite son at a cost of ¥35 million. 15,000 people turned out for the unveiling and Nagbuchi gave them a six-song performance in the 130,000 sq.m. space where the concert was held.
• Pin-up girl Yasu Megumi (24) has denied rumors that she is dating writer Lili Frankie (42), despite photos of the two published in a weekly magazine. She was appearing at the launch event for her latest photo book, shot on location in Hawaii.
• Also releasing a new photo book soon is Kano Mika (38), the younger of the "Gorgeous Kano Sisters". It reveals officially for the first time the 1989 Miss Japan's wholesome proportions, given as: bust-95cm, waist-57cm, waist-90cm. The book will feature "hair nudes", meaning photos that show pubic hair. Not a rarity these days but a first for the Kano-shimai, who have been fading a little from the limelight lately. The book is being publicized as one product to mark the sisters' tenth year as celebrities.
Interesting story? Then add it to your favorite social site:







| | |
| --- | --- |
| Rose Reaches a Milestone | March 18, 2006 |

The all-female Takarazuka theater company has reached another major milestone. The 1,630th performance of "Berusaiyu no Bara" (Rose of Versaille) yesterday saw the total audience reach 4 million. The lucky audience member, a 15-year old girl from Yokohama, got a bouquet of flowers and had her photo taken on stage with the stars of the show. The lavish production has been running since 1974 at the Takarazuka theater in the city of the same name in Hyogo Prefecture.
• Yesterday's issue of weekly magazine Friday published more photos "proving" the romance between actor Tsumabuki Satoshi (25) and actress Shibasaki Kou (24). The photos, taken at the beginning of this month, showed the couple in Tsumabuki's car after a dinner date in Tokyo. The two have been rumored to be dating for several years, since they co-starred in the drama series "Orange Days" in 2004. Shibasaki was spotted leaving Tsumabuki's Tokyo home last September and the two recently spent a month in New Zealand filming the movie "Dororo". Tsumabuki has previously been linked with talento Yuka (25), while Shibasaki has been said to be involved with Da Pump vocalist Issa (27).
• The winners of this year's music video awards from cable channel Space Shower TV were announced yesterday. Winning in the pop category was Hirai Ken (34) with his appropriately titled hit "Pop Star". The video featured him dressed up as various characters, including a racoon. Koda Kumi (23) continued her award winning streak, taking the Music Video of the Year for her collaboration with Soulhead.
Interesting story? Then add it to your favorite social site:







| | |
| --- | --- |
| Return of the 60s Legends | March 17, 2006 |

Sakai Masaaki (59) and Inoue Jun (59) are going on the road again after a gap of 36 years. The former lead vocalists of hugely popular 60s band The Spiders had a famous rivalry, but are said to have met for a drink last year and put the past behind them. Starting from the end of this month, they will spend the next two years touring the country with their joint show. The Spiders were among the pioneers of the Group Sounds era in the 60s, and broke up in 1969. Both Sakai and Inoue have remained TV regulars over the decades. Sakai is best known outside Japan for his lead role in the 70s TV series "Saiyuki" (Monkey). He and other Spiders members Mousieur Kamayatsu (67) and Inoue Takayuki (64) formed a trio in 1999, appearing on the Kohaku New Year's Eve show on NHK and doing a national tour in 2001.
• The Stones rolled into town yesterday for their fifth Japan tour. Coming straight from a show in New York, they've brought their A Bigger Bang tour for five dates - March 22 & 24 at Tokyo Dome, 29 at Sapporo Dome, April 2 at Saitama Super Arena and finishing up on April 5 down the road from Japan Zone's new home at Nagoya Dome. Mick Jagger (62) said this visit, their fifth, may be their last to Japan. 200 fans turned out to welcome the band at Narita Airport, though they were outnumbered by over-enthusiastic reporters who had to be told to "take it easy" by Keith Richards (62). Also among the crowd was comedienne Takeuchi Miyako (42) of the duo Pink Denwa, a die-hard Stones fan.
Interesting story? Then add it to your favorite social site:







| | |
| --- | --- |
| The Return of Danjuro | March 16, 2006 |
Kabuki actor Ichikawa Danjuro (59) gave a press conference yesterday to announce his return to the stage after battling with leukemia for the second time. He was hospitalized in September of last year and finally released on February 22. He will appear at the Kabukiza theater in Tokyo on May 1. The exact nature of his disease was a recurrence of acute promyelocytic leukemia. Head shaven but looking well, he described his time in hospital as a struggle with himself as much as the disease and said that he had been to hell and back.
• Comedy duo Bakusho Mondai this week became the first stars of the TV variety show circuit to be recognized by the government for their cultural merit. They were among the names announced for this year's commendations from the Ministry of Education, Culture, Sports, Science and Technology. Among the 18 winners in the arts were singer/songwriter Najkajima Miyuki (54) and rakugo storyteller Katsura Sanshi (62). With shows like "Sunday Japon" and "Sta-Men" the duo of Ota Hikari (40) and Tanaka Yuji (41) have made popular a new kind of intelligent variety show that discusses current issues. Ota in particular has shown he has a remarkable level of insight and intelligence. Remarkable at least in comparison with the majority of comedy stars who seem to have taken over most of the networks.
• Hugely popular model Ebihara Yuri (26) unveiled her latest TV commercial yesterday. Shot at a private pool in Beverley Hills, the ad for Shiseido's Anessa sun block features "Ebi-chan" from behind slipping off her bikini top and is sure to be a talking point.
Interesting story? Then add it to your favorite social site:







| | |
| --- | --- |
| Katsunori Says Goodbye | March 15, 2006 |

Actor Takahashi Katsunori (photo, 41) bade a tearful farewell to his late father yesterday. Over 800 people attended the wake in Yokohama for musician Takahashi Katsushi, who passed away on Monday at the age of 77. Katsunori married model Hanna (25) in 2004 and said his biggest regret was that his father hadn't had a chance to see a grandchild.
• Former top bar host Shirosaki Jin (28) is to make his recording debut. The one-time Kabukicho "charisma" host will record the 1977 Four Leaves hit "Bulldog" and the song will be produced by veteran Sakai Masatoshi (67), who in the past has worked with modern legends Yamaguchi Momoe and Go Hiromi. Shirosaki, who in his heyday as a host is said to have made ¥100 million a year, says he is aiming for an invitation to the year-end Kohaku Uta Gassen song spectacular on NHK.
• Actress Adachi Yumi (24) is still a month away from the expected date of her first baby but has already announced her return to work. She will appear in the latest series of NHK's Friday night samurai drama "Keijirou Engawa Nikki 3", starring Takahashi Hideki (62) and airing from October. Filming will start in June and Adachi will be back on the set from July. The baby-faced actress played the role of a mother for the first time in the second series and her child will be five years old in the latest. Off the set, she will be the mother of a 3-month old baby with comedian Itoda Jun (33), who she married last September.
Interesting story? Then add it to your favorite social site:







| | |
| --- | --- |
| Ayu's a Record Breaker | March 14, 2006 |

Singer Hamasaki Ayumi (27) has become Japan's most successful female pop artist. With her 39th single, "Startin'/Born to Be..." making No.1 in the Oricon charts, she now has 26 chart toppers, one more than '80s diva Matsuda Seiko. It's also her 14th No.1 single in a row, dating back to "Free & Easy" in 2002. She's also tops in overall single sales with almost 20 million, and in Top 10 singles with 37. Ayu is currently in the middle of a nationwide arena tour that includes 30 shows in 14 cities.
• Meanwhile, one of Ayu's main rivals these days is doing well with her latest album. Chart topper "Best - Second Session" is Koda Kumi's second hits collection and includes all twelve singles that she released over the last few months. With sales of over 930,000, it is guaranteed to become a million seller.
• Okinawan singer Chinen Rina (25) has given birth to a baby boy. It's the first child for her and model Nakamura Kentaro (22), who she married last August. Another new mother with a baby boy is Katsu Keiko (39), former weather announcer on TV Asahi's "News Station." She married the editor of a major weekly magazine in 2004.
Interesting story? Then add it to your favorite social site:







| | |
| --- | --- |
| You Cradle Snatcher | March 10, 2006 |
Actress/talento You (41) has divorced her younger husband to shack up with an even younger dancer. It was revealed in this week's issue of the magazine Friday that You and her second husband, actor and former model Matsuoka Shunsuke (34), have divorced and that she is now involved with Atsushi (28), a dancer with popular rock/hip hop band Dragon Ash. You, who starred in the recent acclaimed movie "Dare Mo Shiranai" (Nobody Knows), started out as the vocalist of rock band Fairchild. With her quick wit and acid tongue, she made a name for herself on the variety show circuit. She married Tezuka Atsushi (40), guitarist of the band Privates, in 1991, and they divorced in 1997. She maried Matsuoka the same year and they had one child.
• Sexy singer Koda Kumi (23) has taken the Artist of the Year at the 20th Japan Gold Disk Awards. The award is based on sales, of which Koda racked up a whopping 3.55 million copies in the last year. She can put the award alongside several others, including last year's Song of the Year. And with this week's release of her second hits album, "BEST - Second Session", she looks set to achieve another million seller.
• Semi-retired singer/actress Nishida Hikaru (33) revealed yesterday that she is four months pregnant. She made the happy announcement on the pre-recorded Akashiya Sanma-hosted variety show that airs March 14. Nishida married 36-year old E-san, who works for a trading company, in May 2002. At first they lived in California but now spend most of their time in Japan.
Interesting story? Then add it to your favorite social site:







| | |
| --- | --- |
| Tom Cruise Fesses Up to Japanese Media | March 07, 2006 |
Hollywood star Tom Cruise (43) spoke to members of the Japanese media recently and offered them some world exclusive tidbits. First off, he revealed that Tokyo is the main contender to be the location for "Mission Impossible: 4". He also gave the first official word that he and fiancee Katie Holmes (27), currently expecting their first baby at the beginning of April, are to have a wedding ceremony in September. Cruise, who shook everyone's hand and congratulated the Japanese reporters on Arakawa Shizuka's recent gold medal at the Winter Olympics, promised that he would visit Japan with his new family. He also revealed some details about "M:i:3", currently in production after delays of several years - his character, Ethan Hunt, is retired from active service and working as an instructor at IMF, but gets caught up in an incident where he has to come to the rescue of a pupil and his own fiancee, played by Michelle Monaghan. Filming has taken place in Italy and China as well as the US, and total production is said to have run to $150 million. It is scheduled to open in the US on May 5 and here on July 8. Meanwhile, Cruise won just one of the three Golden Raspberry awards he was nominated for, taking the newly introduced "most tiresome tabloid target" award. Asked about the awards by the Japanese press, he said he disliked their negativity and the fact that they make fun of people.
• Mai, the talented daughter of musician Hisaishi Joe, is to make her recording debut. She will release a cover of "Sakura ga Saita Yo", written by her father in 1994, on March 8. The new single will be available only from the iTunes website. Hisaishi Snr. is famous for his work on the movies of Kitano Takeshi and anime features by Studio Ghibli. For the 1984 classic "Nausicaa of the Valley of the Wind", he used the young Mai's voice for the wel-known "Lan-lan-lalaa" melody. Her interest in singing was sparked again years later while studying in the US.
Interesting story? Then add it to your favorite social site:







| | |
| --- | --- |
| Kimuni, Henmi to Have Ceremony | March 06, 2006 |
Comedian Kimura Yuichi (43) and talento Henmi Emiri (29) are to hold a wedding ceremony and reception in April. The couple married on January 9, and Kimura said at the launch of his new cookbook on Saturday that the finals details have yet to be decided. It's likely that any formal announcement will come from the PR department of Yoshimoto Kogyo, the agency that represents Kimura, known by his nickname of "Kimuni".
• "The Chronicles of Narnia: The Lion, The Witch, and The Wardrobe" got off to a good start at the box office. It opened on 800 screens on March 4, and looks set to break the opening-day record for Disney productions set in 2003 by "Finding Nemo" with ¥400 million. Nemo pulled in ¥11 billion altogether, while Narnia is expected to break the ¥15-billion mark. It has already made almost $670 million in 67 countries worldwide.
• The Rolling Stones are to release a Japan-only CD set that includes 8 of their mid-career LP albums. Not just a re-release on CD, the set includes reproductions of the original album covers and all liner notes, posters etc. For example, it includes the set of 12 postcards that came with the 1972 album "Exile on Main Street". The set covers albums from 1971's "Sticky Fingers" to 1981's "Tattoo You". It goes on sale from Toshiba EMI on March 15. There is sure to be great interest from fans outside Japan. The Japan leg of the Stones' A Bigger Bang world tour has six dates, from March 22 (Tokyo Dome) to April 5 (Nagoya Dome).
Interesting story? Then add it to your favorite social site:







| | |
| --- | --- |
| Razor Ramon Hard...Gay? | March 03, 2006 |
Popular comedian Razor Ramon HG (30) finally has finally made the gossip weeklies. The HG stands for Hard Gay, but the other party in this "romance scandal" is busty pin-up girl Suzuki Anna (23), a former member of the "sexy group" Minisuka Porisu (Miniskirt Police). The two were spotted out on a date in Tokyo's Shinjuku district by photographers from the weekly magazine Friday. HG has had perhaps the biggest breakthrough in comedy over the last year with his studded black leather outfits, sunglasses, outrageous comments, posing and the catchphrase of "Fohhh!" The tall and well-built former wrestler, whose real name is Sumitani Masaki, formed comedy duo Razor Ramon with partner Debuchi Makoto (31) in 1997 and joined the Yoshimoto Kogyo agency. But it wasn't until the creation of the HG character that they began to become popular. Debuchi has tried to cash in with his RG (Real Gay) character, but has had limited exposure.
Director and scriptwriter Kuze Teruhiko died of a heart attack at his Tokyo home yesterday. He was 70. He was best known for the popular 1970s TBS TV dramas "Jikan Desu Yo" and "Terauchi Kantaro no Ikka".
• The hardest-working man in Japanese showbiz has taken on yet another job. With the new talk show "Mino Monta no Sashinomi" set to start in April, Mino (61) now has a whopping ten regular weekly shows, nine of them on TV and one on the radio. The latest addition to his busy schedule is on NTV at 11:45pm on Mondays, so he now has shows in the morning, afternoon, evening and late at night. Mino was most recently in the news following his back surgery immediately after hosting the Kohaku spectacular on New Year's Eve, after which he spent two weeks in hospital.
Interesting story? Then add it to your favorite social site:







| | |
| --- | --- |
| Golden Stars | March 02, 2006 |

At yesterday's Golden Arrow awards, the big winners were singer Koda Kumi (23) and actress Ito Misaki (photo, 28). The awards go to people who played the biggest role in several entertainment categories. The sexy Koda had a breakthrough year in 2005, with a string of consecutive Top 10 singles. The beautiful Ito is the new ratings queen, starring in two popular drama series during the year, "Densha Otoko" and "Kikenna Aneki". She showed up to the awards in a suitably colored gold dress. There were five awards for the most prominent newcomers, including pop duo WaT, who made their pro debut just four months ago. WaT, made up of 20-year old toy boys Wentz Eiji and Koike Teppei, started out in 2002 playing in Tokyo's Yoyogi Park every Sunday.
• Actress Yasuda Narumi (39) is to appear in her first TV drama in six years. "Saigo no Yakusoku", a "human drama special" based on a true story, will air on Fuji TV on Apirl 4. Yasuda plays the wife of a sake brewer (Tachi Hiroshi) who is diagnosed with terminal cancer. In real life, she is the wife of comedian Kinashi Noritake (43) of the duo Tunnels.
• Rock band ARB is taking a break after 17 years, due to the tax evasion of singer and actor Ishibashi Ryo (49). The group formed in 1978 and broke up in 1992 when Ishibashi decided to pursue his acting career. They reformed in 1998 and have been active since, last year recording the team song for the Rakuten Golden Eagles when they became the first new baseball franchise in 50 years.
Interesting story? Then add it to your favorite social site:







| | |
| --- | --- |
| Sayonara Sonomama | March 01, 2006 |
It was suddenly revealed yesterday that talento Sonomama Higashi (48) and actress Kato Kazuko (48) have been divorced since February 3. Kato held a press conference yesterday and said that her ex, currently studying politics at Waseda University, plans to return to his hometown in Miyazaki Prefecture and run for office. She told reporters that when he informed her of his decision last year, she said she refused to give up her life in Tokyo to support him and that he would have to go it alone. She retains custody of their two children and is receiving no financial support. The couple had been married for 17 years. A member of Kitano "Beat" Takeshi's troupe, Higashi has been caught up in extra-marital affairs and other scandals but Kato said that past events had nothing to do with the divorce.
• TV Asahi has announced that it has the rights tobraodcast 18 Yomiuri Giants baseball games in the upcoming season, down one from last season. Last year saw record lows in viewer ratings for what still remains "Japan's team". A TV Asahi director said they had originally planned a larger reduction in the number of live broadcasts but the fees are believed to have been dropped considerably, reducing the potential losses in sponsor revenues. How many games are actually broadcast in the latter half of the season will depend largely on whether the Giants are a factor in the pennant race this year.
• Actress Hasegawa Kyoko (27) is to have her first starring role in a drama series. She will star in "Oishii Puropozu" (Delicious Proposal), which starts on Sunday nights on TBS from April 23. In the romantic comedy "Hasekyo" will play a foul-mouthed but skilled chef at an Italian eatery bought out by a major restaurant chain and run by a rich kid manager, played by Koide Keisuke (22).
Interesting story? Then add it to your favorite social site: