Actors & Actresses
Toyokawa Etsushi
(Osaka, 1962- )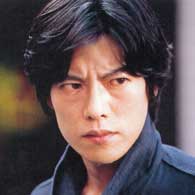 Like many popular Japanese entertainers, Toyokawa Etsushi is widely known by the abbreviation of both his names, in this case Toyoetsu. His wide range of talents - as well as acting he writes and directs - include TV, movies and theater and the breadth of his acting ability has seen him play roles as diverse as a gay doctor in an arranged marriage, a deaf and mute artist and a sinister yakuza boss. The latter role was alongside the as yet unknown Russell Crowe in the reasonable 1996 thriller No Way Back. He has also co-starred with some of Japan's most glamorous leading ladies, including Tokiwa Takako (Aishite Iru to Itte Kure, Say You Love Me, 1995), Nakayama Miho (Love Letter, 1995) and Fujiwara Norika (Kikenna Kankei, 1999).
Toyokawa dropped out of Kwansei Gakuin University after one year to pursue an acting career. He entered a theatrical troupe in Tokyo and spent the next decade as a struggling stage and TV actor until he found success playing the elder of two brothers with supernatural powers in the 1992 TV drama Night Head. He learned sign language for his role in Aishite.. and the series sparked nationwide (though shortlived) interest in the language. Other successful drama series include Kono Yo no Hate (Until the End of the World, 1994) and Aoi Tori (Blue Bird, 1997).
From 2000, Toyokawa starred in the hugely popular 'Love Beer!' series of commercials for Sapporo Beer with Yamazaki Tsutomu. Both actors have a somewhat stoic image and these commercials used that to great effect. Using high-speed Matrix-like photography, the ads had seasonal themes with the protaganists playing table tennis at a hot spring, singing karaoke or engaged in a snowball fight.
At 186cm Toyokawa is tall by Japanese standards and this, coupled with his ability to play 'difficult' roles better than anyone else, is sure to keep him standing above his peers for some time to come.
---
Links