Actors & Actresses
Sorimachi Takashi
(Saitama Prefecture, 1973- )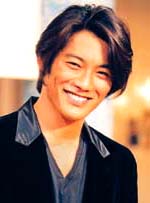 The 1997 lightweight drama series Beach Boys created two male heart-throbs who have managed to stay popular since: Takenouchi Yutaka and Sorimachi Takashi. While Takeouchi is the quieter, pretty-boy type, Sorimachi is more in the brash, macho mould. This image matched that of the hero of the hit manga GTO: Great Teacher Onizuka who Sorimachi brought to life on the screen in an inexplicably popular TV drama series and subsequent movie.
I used the word 'inexplicably' to describe GTO's popularity but it was based on solid economic principles - the original manga was a best-seller, the show's male and female leads (Matsushima Nanako - later to become his wife, was the female half) were highly marketable up-and-coming stars and the series touched on a lot of the raw nerves exposed by recent problems in the eductional system and with young Japanese in general. My problem stems from Sorimachi's lack of real acting ability (In fact, writing profiles on personalities like this always makes me think I should have a seperate section for the essentially talentless). The more generous critics claim that he makes up for this in charisma and star quality. Whatever.
Born Noguchi Takashi in Saitama Prefecture, his ambitions led him to the famous Johnny's Jimusho agency, home of SMAP. Like SMAP, he found himself in the late '80s as a backing dancer to the idol boy-band of the day, the roller-skating Hikaru Genji. He later changed direction and moved into modeling. He graced popular magazine covers, appeared in Benneton ads and did catwalk shows in Tokyo and Europe.
He made his TV debut at the age of 21 and gradually landed bigger roles. His first starring role was in Virgin Road in early 1997 but Beach Boys was his big break. He released an eponymous album of original music the same year. In February 2001, Sorimachi married his GTO co-star Matsushima and inevitably they were dubbed the Heisei Big Couple (the Heisei Era being from 1989).
---
Links