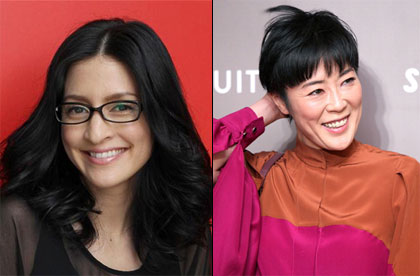 Singer-songwriter Angela Aki (34, photo left) is the proud mother of a baby boy. She broke the news on her blog earlier today. Aki married her music director in March 2007.
Aki is the daughter of Aki Kiyoshi, founder of the Aeon chain of English conversation schools, and an Italian-American mother. Born in Tokushima Prefecture, she started playing piano at the age of 3. She spent her high school years in Hawaii where she was into surfing and the music of Nirvana and Green Day. While at university in Washington D.C. she attended a campus concert by Sara McLachlan and decided that she wanted to pursue a career in music. She had her breakthrough in 2001 when one of her tunes was used in a TV commercial but it wasn't until September 2005 that she made her major label debut with the single "Home." She had her first Oricon chart topper with the 2007 album "Today."
In March 2007 she announced that she was getting married, while also revealing for the first time that it would be her second marriage. Her husband was the music director assigned to her by the Epic Records label, though he has since become a freelancer.
Meanwhile, also on the road to motherhood is actress Terajima Shinobu (39, photo right). Her management released a statement today saying she was pregnant and that this was the reason for the cancellation of "Real Thing," a theatrical production she had been scheduled to begin on May 11. In typical Japanese fashion, the statement was not an announcement of glad tidings but an apology to Karasawa Toshiaki, other cast members, fans and everyone inconvenienced by the development. The show's cancellation had been previously announced but no reason had been given.
Terajima is a multiple award-winning actress both at home and overseas. She took the Best Actress award for Caterpillar at the 60th Berlin Film Festival in 2010. She is from a traditional kabuki family – her father is actor Onoe Kikugorō VII, her mother the actress Fuji Sumiko, and her brother the kabuki actor Onoe Kikunosuke V. She married French art director Laurent Ghnassia in 2007.