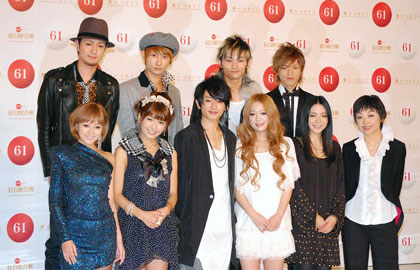 The lineup for this year's 61st "Kohaku Uta Gassen" (Red-White Song Battle) was announced yesterday. The annual concert on New Year's Eve has traditionally been one of the most watched shows on TV, though ratings have been in decline for some years. The red and white teams will be made up of 44 acts this year, down from last year's 50. And there will be only 5 newcomers appearing for the first time, matching the lowest number ever. Among them is singer Uemura Kana (27, photo front row, 2nd right), who had a breakthrough hit this year with "Toire no Kamisama" (God of the Toilet). In spite the title, the song is dedicated to Uemura's late grandmother. At 9 minutes and 52 seconds, it will be longest song ever performed on the show.
Although K-pop acts continue to be very popular in Japan, there will be no Korean artists on the show this year. There are no big surprises or gimmicks in the lineup like last year's appearances by Susan Boyle (49) and Yazawa Eikichi (61). It includes the usual Johnny's Jimusho artists like SMAP (profile), Tokio and Arashi, who will be on emcee duty along with actress Matsushita Nao (25). Arashi drew a peak audience rating of 42% on last year's show, while Matsushita was the star of the year's most popular NHK drama series "Gegege no Nyobo."
Getting the call up for the first time in 9 years will be 1980s idol Go Hiromi (55) and 60s idol Kayama Yuzo (73), who is celebrating his 50th year in showbiz. Rockers L'Arc En Ciel, who recorded the theme song for NHK's coverage of the Vancouver Winter Olympics, will appear for the first time in 10 years. And making his record-stretching 47th appearance on the show will be enka veteran Kitajima Saburo (74, profile). Kohaku will air on NHK from 7:30pm on December 31.