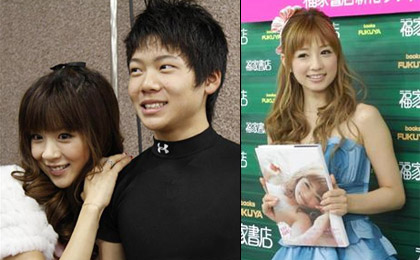 Some recent expected and surprising showbiz wedding news. Busty talento Hoshino Aki (34, photo left) and racing jockey Miura Kousei (21, photo center) tied the knot on Sunday, an auspicious taian day on the traditional calendar. News of the couple's romance and speculation about a wedding started at the end of last year and at the time they were expected to get hitched in the spring. They are said to be hoping to hold a wedding ceremony and reception before the end of the year.
Related stories:
Hoshino, Miura Not in a Sprint for the Finish Line (Nov. 12, 2010)
Married for the sixth time is flamboyant media magnate and movie producer Kadokawa Haruki (69), this time to a singer 40 years his junior. The news was revealed by his daughter Keiko (37), though not in the way you might expect. A writer, she posted the news in a website article in which she says she knew about the relationship between her father and singer Asuka (29) but had no idea they were married. She learned about it from a reporter for the weekly magazine "Shuukan Bunshun," currently in the middle of a court battle with her father. Asuka appeared as a witness in the case and gave her family name as Kadokawa and the cat was out of the bag. Kadokawa is said to have spotted Asuka in 2006 and produced her debut single the following year. Romance between the two was first reported in November 2009. Since February of this year Asuka has been on an extended break from music due to health problems. Kadokawa is a leading figure in the Japanese movie industry with many blockbusters under his belt, but also has an arrest record for embezzlement and drug smuggling.
This morning talento Ogura Yuko (27, photo right) and hair stylist Kikuchi Isao (40) announced plans to get married in Hawaii on October 10. Just last weekend Ogura was promoting a new photo book shot in Hawaii and, when asked at the time about her marriage plans, said that it wouldn't be "this week or next but sometime soon."
Bucking the trend of marrying someone much older or younger is singer Iwasawa Kouji (34). One half of the popular duo Yuzu, he is reportedly getting married next month and his bride-to-be is described as an ippanjin in her 30s from Yokohama. The couple have been in a relationship since their late teens.