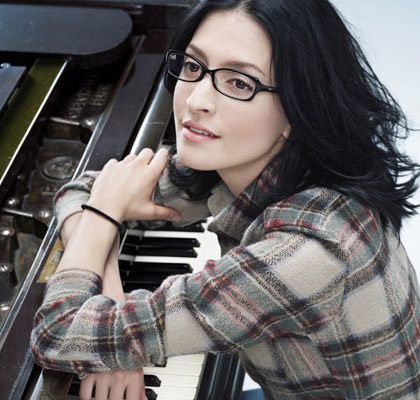 Popular singer-songwriter Angela Aki (34) and her music director husband are expecting their first child, it was revealed today. The baby is due at the end of February but Aki has said that she plans to go ahead with her planned year-end concert at the Nippon Budokan. The concert has been an annual event since 2006, when she became the first solo pianist to perform at the hallowed venue.
Aki is the daughter of Aki Kiyoshi, founder of the Aeon chain of English conversation schools, and an Italian-American mother. Born in Tokushima Prefecture, she started playing piano at the age of 3. She spent her high school years in Hawaii where she was into surfing and the music of Nirvana and Green Day. While at university in Washington D.C. she attended a campus concert by Sara McLachlan and decided that she wanted to pursue a career in music. She had her breakthrough in 2001 when one of her tunes was used in a TV commercial but it wasn't until September 2005 that she made her major label debut with the single "Home." She had her first Oricon chart topper with the 2007 album "Today."
In March 2007 she announced that she was getting married, while also revealing for the first time that it would be her second marriage. Her husband was the music director assigned to her by the Epic Records label, though he has since become a freelancer.
Hinano, Mikiti Also in the Family Way
Another celebrity expecting a baby and about to be twice-married is talento Yoshikawa Hinano (31). She and her husband (36), the CEO of a music/fashion sales related company, are planning to register their marriage soon and Yoshikawa is expecting next spring. The couple are said to have been introduced in early 2008. A young Yoshikawa was at the peak of her popularity when she married cross-dressing visual-kei rock vocalist Izam back in 1999. But that marriage lasted only seven months and was widely regarded as having been more of a game for the couple.
Also announcing a pregnancy this week was singer Fujimoto Miki (26), popularly known by her nickname Mikiti. She and comedian Shoji Tomoharu married in July 2009. She is expecting their first baby in March. Fujimoto is a member of the Hello! Project and has been in the lineup of Morning Musume and various other associated projects for the last decade.