Japan Entertainment News - August 2005
| | |
| --- | --- |
| Yon-sama's Back | August 31, 2005 |
Korean actor Bae Yong Joon (33) is back in Japan yet again. It seems he just can't keep his multitudes of middle-aged female fans happy without making regular trips. A change of hairstyle for a recent appearance in Seoul got such an online bashing from Japanese fans that he returned to his old style before setting foot in Narita Airport. He was at the Tokyo International Forum yesterday for the Japan Premier of his latest movie "Shigatsu no Yuki" (Snow in April). To avoid mass panic and a repeat of the injuries suffered by fans on Yon-sama's previous visits, only 4,000 tickets were sold and seating was pre-arranged by lottery. About the same number of ticketless fans were waiting outside the venue to catch a glimpse of their idol. There was another large turnout today for an appearance at the Saitama Super Arena, which Yon-sama merchandising selling like hot cakes. It's sure to be yet another very profitable couple of days in Japan.
• Life is imitating art for popular actress Yada Akiko (26). She and actor Oshio Manabu (27) are said to be seriously involved after they appeared together in the TBS drama series "Yume de Aimasho" (Let's Meet in Our Dreams), which ran from April to June. They were reportedly seen together on a date in June and they travelled together to Hawaii during the summer.
• Model Nishimura Miho (24) has denied rumors of a split with Livedoor CEO Horie Takafumi (32). Horiemon has entered himself in the upcoming Sept. 11 general election, running in the Hiroshima constituency of powerful LDP rebel Kamei Shizuka. Perhaps he's spreading himself a little too thin (though he seems to have put on weight) and his love life is suffering for it. Nishimura says she wants get married and have kids someday, but that the election and a possible political career has to come first.
Interesting story? Then add it to your favorite social site:







| | |
| --- | --- |
| The Most Unpopular Talento Is... | August 30, 2005 |

The Nikkei Entertainment magazine recently published the results of its latest poll of the most popular and unpopular foreign celebrities in Japan. Top of the "out" list by a mile was Kaya (photo), the loud-mouthed American wife of singer/actor Kawasaki Mayo. She was followed by the king of lame jokes, Dave Spector. Third was singer Anges Chan, with many people complaining that even after many years in Japan, her Japanese pronunciation is strange. Next was Brazilian singer Marcia, who divorced hubbie actor Otsuru Gitan a year ago. Rounding out the Top 5 was Taiwanese pin-up Yin Ling of Joy Toy - yes, that's her name! No further comment required, I guess. Doing better was Thane Camus, who topped the "in" list. Apart from his frequent variety show appearances, Thane has his own English school and talent agency for foreigners. Second in the list was Nigerian Bobby Ologon, who has burst onto the scene this year. He has been in the ring against K1 fighters and even landed a role in the latest movie in the "Tsuri Baka" series. Third was Korean actress and variety show regular Yoon SonHa.
• Among the highlights of Nippon TV's 24-hour TV marathonwere the 100km run by a 59-year old lawyer and a scrawled message from a recovering baseball legend. Lawyer Maruyama Kazuya became the oldest runner to complete the annual gruelling 100km marathon that is always a centerpiece of the show. He is a regular panelist on the popular variety shows that feature fictional legal situations. Former Yomiuri Giants great Nagashima Shigeo (69) is still in rehab following a stroke but managed to sign a brief message, "Ikiru" (To Live), which he sent to the live show. He remains partially paralyzed on his right side.
Interesting story? Then add it to your favorite social site:







| | |
| --- | --- |
| Danjuro Diagnosed With Leukemia Again | August 29, 2005 |
Popular kabuki actor Ichikawa Danjuro (59) is taking an extended break to undergo treatment for leukemia. He was first diagnosed with acute promyelocytic leukemia in May 2004, and he had treatment which was thought to have been successful. He made his comeback for a performance in Paris last October with his son, the current Ichikawa Ebizo (27). He and his son toured around Japan in June in celebration of the younger actor's succession to the Ebizo name. The reoccurence of the disease was discovered during a regular checkup this month.
• Singer Kuraki Mai (23) has been doing the rounds in a yukata (light summer kimono) to promote her new album. "Fuse of Love" went on sale on August 24 and is her first release in a year and eight months. Her yukata is purple, which she says is her lucky color. It seems to have helped, as the album is currently at No.3 in the Oricon daily album chart.
• Meanwhile, top of the weekly album chart for the second week is the "Disco Zone" album by East-European group O-Zone. The infectious single "Koi no Maiahi" is still sweeping the country and popular as ever with young music fans. Actually sung in Moldovan, an online animation that put Japanese "lyrics " to it caught the public imagination on 2Channel, the country's biggest BBS.
Interesting story? Then add it to your favorite social site:







| | |
| --- | --- |
| Directors in Need of Direction | August 26, 2005 |

Young movie director Toyoda Toshiaki (36) was arrested this week for possession of stimulant drugs. Five packets of the drug (about 3.9g) were found by police at his home in Komae, Tokyo. He admitted that the drugs were for his own use. Toyoda's latest feature, "Kuuchu Teien" (Garden in the Sky) was due for release in October but the date is likely to be extended. Star of the movie, actress Koizumi Kyoko (39) is said to have been shocked by the news. Toyoda made his directorial debut with 1998's "Porno Star," winning a newcomer's award from the Director's Guild of Japan. Other films such as "Nine Souls" and promo video work for popular band Asian Kung-fu Generation had won him acclaim, making him one of the rising stars of the business.
• A TV company director was arrested in Tokyo on Wednesday for secretly filming up a woman's skirt. Fukushima Tatsuo (45), an employee of NTV affiliate Nippon Terebi Video, was arrested after a woman noticed he had his mobile phone under her skirt on an escalator at Shimbashi station on the Ginza subway line. Fukushima has admitted and apologized for the incident.
• Yoshimoto comedian Tokui Yoshimi (30) had his briefcase stolen from his car this week while he was enjoying a late dinner. He was downing a bowl of gyudon (rice covered with beef and vegetables) when the window of his Peugeot was broken and the briefcase stolen. In fine comic fashion, he said the only thing he wanted back was his mobile phone, as it had the phone number of a female college student he had recently met. Tokui is one half of the manzai duo Tutorial.
Interesting story? Then add it to your favorite social site:







| | |
| --- | --- |
| Kabuki Actors in Love | August 25, 2005 |

Kabuki actor Nakamura Shido (32) appeared at an event yesterday to promote the upcoming TV Tokyo period drama about the Tokugawa clan. Shido will play the role of legendary swordsman Yagyu Jubei in the second episode of the 3-part mini-series. The series tells of the power struggles that continued for 20 years after the sudden death of the shogun Tokugawa Ieyasu, who unified Japan after centuries of civil war. According to a statement from the management agency of actress Takeuchi Yuko (25), she and Shido recently moved into a new home in Tokyo and are eagerly awaiting the birth of their first child. The couple married in June.
• Another kabuki actor is also in the news. Yamauchi Takaya (33) is rumored to be romantically involved with the recently divorced actress Okina Megumi (26). When asked about the rumor at a PR event for an upcoming stage production, he just smiled. Okina, who divorced the president of an IT company in July, flatly denied the rumor through her agency, which is standard practice.
• Some big names known for their "cute" appeal are making a few bucks on the side. Hollywood actress Meg Ryan (49) is to appear in the new TV commercial for Nescafe Excella coffee from next month. World No.1 women's tennis player Maria Sharapova (18) will appear in the commercials for Canon's new range of digital cameras. They will go on air from August 26. And local girl Suzuki Ami (23) is to make her CM comeback after 4 years. Enjoying a resurgence in a career that saw her at the top of the idol singer pack in the late 1990s but almost disappear for several years, she will be the face of Internet shopping mall N's Street.
Interesting story? Then add it to your favorite social site:







| | |
| --- | --- |
| An Ungirl in Love | August 24, 2005 |
Yamane Yoshiaki (photo left, 29), one half of the comic duo Ungirls, has been romantically linked with popular talento Yamakawa Erika (23). The two first met on a variety show in May where they were paired together to do a bit of ballroom dancing. Ungirls have been one of the more unusual comic acts to enjoy the recent comedy boom. With Yamane and his partner Tanaka Takushi (29) both being tall and incredibly skinny, their visual impact and general nerdiness has made them hugely popular, especially with young girls. But not many would imagine Yamane as a romantic partner, so this latest showbiz couple is sure to turn lots of heads.
• Veteran actor Watari Tetsuya (63) has made his debut as a voice actor. He provided one of the voices for the upcoming new Sega action-adventure game for Play Station 2, "Ryu ga Shiku." The cast also includes actress Mihara Junko (40) and former wrestler Fujiwara Yoshiaki (56). The game cost ¥2.4 billion to develop and is due for release this winter. Watari and Sega chairman Satomi Hajime were classmates at Aoyama Gakuin University and have been friends since. Sega and Watari, as president of the Ishihara Promotions agency, have also cooperated on supporting cancer charity work.
• Hamasaki Ayumi's latest TV commercial for Panasonic will feature the pop diva dressed as a maiko (apprentice geisha) in a striking red kimono and speaking in the distinctive Kyoto dialect. Ayu (26) has appeared in a long series of ads for the company's digital cameras, the latest of which is the Lumix. She also wrote a new song for the commercial, "Will," which goes on sale on September 14.
Interesting story? Then add it to your favorite social site:







| | |
| --- | --- |
| Amuro Mama | August 23, 2005 |
Singer Amuro Namie (27) has won parental rights to her 7-year old son. She divorced TRF dancer Sam (43) in July 2002 after five years of marriage, at which time Sam was given "parental authority" over their son, while Amuro had the "upbringing authority." Following an arbitration by the family court, Amuro now has both. Both Amuro and TRF are with the Avex record label and are said to remain friends.
• The Korean entertainment boom is still alive and well. Singer/actor Park Yong Ha (28) yesterday became the first Korean artist in more than 20 years to play solo at the Nippon Budokan in Tokyo, something of a hallowed ground for musicians. He sang 23 songs, including one in Japanese and the theme to the hugely successful drama series "Winter Sonata." With most of the 10,000 tickets going for a pricey ¥10,000, the concert pulled in about ¥100 million. Park will play the Osaka Hall on August 28. The success of the Budokan gig will be good news for other Koreans lined up to play the venue this year: R&B singer P (23) and singer-actor Ryu Siwon (32) will play two concerts each during the autumn.
• Veteran actress Nakamura Tamao (66) is said to be recovering well following her recent surgery. The ditzy widow of legendary actor Katsu Shintaro was forced to drop out of a planned September theater role when a polyp was discovered on her vocal chords.
Interesting story? Then add it to your favorite social site:







| | |
| --- | --- |
| Sugita Saga Continues | August 22, 2005 |

The divorce of actress Sugita Kaoru (40) and wealthy heir Ayukawa Junta (44) doesn't look like fading from the media glare after all. Early statements suggested that the couple would just put it all behind them. But now it seems that there's going to be a war of words and a court case. Ayukawa's lawyers have hinted at a libel suit against Sugita following claims of violence and harassment that she made in last Friday's edition of a weekly magazine. Sugita certainly seemed to want to have her say on the air on a radio show at the weekend. But time and the show's producers stopped her. You can expect this story to be around at least until something bigger comes along, like the September 11 election.
• Singer Matsuda Seiko (43) played her first ever overseas concert at the weekend. Seiko, in her 25th year in showbusiness, played for 5,000 fans in Taiwan -- including about 600 who had made their way from Japan -- to finish off her anniversary concert tour.
• Hollywood star Johnny Depp (42) is to make his first trip to Japan in ten years. Depp will arrive on September 3 to promote "Charlie and the Chocolate Factory," his latest collaboration with director Tim Burton. It will be his second trip to Japan.
Interesting story? Then add it to your favorite social site:







| | |
| --- | --- |
| Long Time, No See, Gokumi | August 18, 2005 |
One of Japan's most beautiful women is to make a long-awaited return to the small screen. Former actress Goto Kumiko (31) will make her first appearance on TV in five years as a special guest on NTV's "Tokyo Bijin Monogatari" on Sunday night. She now lives a "celeb" lifestyle in Geneva with her husband, Formula One driver Jean Alesi (41), and their two children. On the show she will show her old friend Mauyuko (daughter of actor Tsugawa Masahiko) around their second home, a sprawling chateau near Avignon in France. The show is sponsored by cosmetics maker Shiseido and features Tokyo-based beauties, including Ito Misaki and Shinohara Kyoko, interviewing famous women around the world, such as Yoko Ono and Korean actress Choi Ji Woo.
• Nishikawa Takanori (34), drew a huge crowd on the streets of Shinjuku yesterday but only got to play one song for them. Nishikawa, who goes by the name of T.M. Revolution, was to play two songs in a "guerilla live" PR event for his new single "Vestige." He turned up 10 minutes late, arriving in a ¥70-million Lamborghini Diablo - the only one in Japan - and surrounded by huge black bodyguards (there seems to be a stereotype in Japan that black bodyguards are more intimidating). By this time 5,000 people had stopped to see what was going on and police decided to limit him to just one song.
• Busty talento Megumi (23) is back to work today after last month's traffic accident. She's in Nagano for filming of an ongoing drama series. She was returning from the same location last month when the car driven by her manager was hit by a bus. She suffered a fractured hip and has been undergoing rehab.
Interesting story? Then add it to your favorite social site:







| | |
| --- | --- |
| Good News for Rina | August 17, 2005 |

Singer and actress Chinen Rina (24) announced that she recently married model Nakamura Kentaro (22) and is carrying his baby. She said in a statement that she is expecting the baby next April and will step down from her planned role in the December musical "Jekyll and Hyde." Her place will be taken by Suzuki Ranran (30). A representative for Chinen and Nakamura registered their marriage at a city hall on August 10. The couple are living separately but are said to be looking for a new home. Chinen plans to take maternity leave as soon as filming of her current TBS drama series finishes. She says she will continue to work after becoming a mother.
• We seem to be having more than our usual share of earthquakes and heavy rain recently. A quake struck off the coast of Miyagi Prefecture in northern Japan yesterday afternoon, leaving about 60 people injured and stranding many on shinakansen (bullet trains) for hours. Among them was popular young model and singer Uehara Nami (14), who was stuck on the Tohoku Shinkansen for more than six hours. The cover model for teen magazine "Hana*Chu" was travelling between PR events for her new single "Real Me."
• Fujita Susumu (32), president of IT company Cyber Agent, last night made his first TV appearance since his July 22 divorce from actress Okina Megumi (25). He appeared on the Fuji TV "Sora Tobu Guutan" variety show, which focuses on pseudo-psychoanalysis, usually of women. The show is hosted by popular female talento Yuka and actress Shinohara Kyoko. Fujita didn't do too well in his analysis of several women on video, and admitted that the divorce has robbed him of his confidence in dealing with the opposite sex.
Interesting story? Then add it to your favorite social site:







| | |
| --- | --- |
| Game Over for Sugita | August 15, 2005 |

Actress Sugita Kaoru (40) has finally put her brief and unhappy marriage behind her. She refused to speak to the media at the weekend but her lawyers issued a fax statement saying that her 7-month marriage to wealthy heir Ayukawa Junta (44) had ended in divorce. With her troubled past that started when she gained fame as a child actor, she was long considered destined to be a spinster. She even seemed to relish the image in recent years, as she fed off it on the the variety show circuit. So the showbiz world was taken by complete surprise when she announced her marriage to a very eligible and rich bachelor in January. But the honeymoon - and Sugita's new image as a "celeb" wife - didn't last long. Rumors circulated of fights between the two - who never even lived together - and Sugita started dropping bigger and bigger hints that things were not going well. During the summer she said she had returned her wedding ring (by parcel delivery!) and hadn't even seen her husband in months. Divorce papers were submitted at the end of July and the final decision was handed down on August 11. Lawyers for Ayukawa said that there is no dispute over alimony and there will be no court case. It remains to be seen whether Sugita will use the experience to create a new "divorcee" showbiz persona for herself, or whether she'll prefer to retire and live off whatever financial settlement she receives.
• Tanaka Misako (45) is making her comeback as an actress. She will star in the upcoming TBS drama series "Brother Beat," her first major role in five years. It also marks her return to work after she had a baby girl in 2002. She will play the mother of three handsome sons in the so-called "home comedy."
Interesting story? Then add it to your favorite social site:







| | |
| --- | --- |
| All the World's a (Romantic) Stage for Takako | August 11, 2005 |
It was revealed recently that popular actress Tokiwa Takako (photo, 33) is romantically involved with actor Nagatsuka Keishi (30). The two met when they both appeared in the movie "Geroppa!" in 2002. Romance bloomed when Tokiwa took on her first stage role in May. Nagatsuka - the son of actor Nagatsuka Kyozo (60) - is considered one of the leading lights of the theater world, and works as a writer, producer and director as well as acting. These two are sure to be one couple the media will be watching closely.
• The illegitimate son of actor Matsukata Hiroki (63) and singer Chiba Maria (56) is to make his acting debut. Toeda Masahi (20) was born after an affair between the two stars. His father refused to acknowledge parenthood for many years and he was raised by his mother. The debut by the son of one of Japan's most established samurai actors will be, naturally, in the leading role. Toeda, who says that becoming an actor was his "unescapable destiny," will play the lead in "Ai no Kizuna" which is scheduled for release in September 2006.
• Tokita Shintaro (27), the piano-playing half of the popular duo Sukima Switch, revealed on his official website that he recently got married. There were no details about his new bride except that they met four years ago. That was around the time that Tokita and vocalist-guitarist Ohashi Takuya (27) started getting serious about playing gigs in the Shibuya and Shinjuku areas of Tokyo. In April, their single "Zenryoku Shonen" made No.3 on the Oricon chart.
• Japan Zone entertainment news updates will be off until next Monday. Have a great weekend!
Interesting story? Then add it to your favorite social site:







| | |
| --- | --- |
| Sayonara, Daimajin | August 10, 2005 |

They won the game but they couldn't grab the limelight on a night like this. The Yomiuri Giants beat the Yokohama Bay Stars 1-0 last night to break a four-game losing streak, but the highlight of the game was a confrontation between two Kazuhiro's. Yokohama's Sasaki Kazuhiro (37) came on in the second inning to face just one batter in his final game in his hometown of Sendai. He struck out Kiyohara Kazuhiro (37) in four pitches before coming off the mound for the last time. The two embraced, with Kiyohara unable to hold back his tears as he saw the stellar career of his old friend come to an end. Sasaki -- known as "Daimajin" after a monster movie character -- is the career saves leader for both the Bay Stars and the Seattle Mariners, where he played for four years. He has been plagued by injuries since his return from the majors, and was recently in the news for a more personal reason. He divorced his former idol star wife kaori (36) in April of this year after rumors had circulated since late 2003 that he was having an affair with actress Enamoto Kanako (24). He married Enamoto in May, less than two weeks after she had given birth to a baby boy.
• Singer songwriter Utada Hikaru (22) is to make her European debut. She debuted in the US as Utada last October, with minor success. She'll be hoping for better sales of the same album, "Exodus," when it goes on sale in the UK and across Europe on September 26. The single, "You Make Me Want To Be A Man" goes on sale on September 19. The promo video for the single was directed by her husband, Kiriya Kazuaki (38).
Interesting story? Then add it to your favorite social site:







| | |
| --- | --- |
| Ayu Down But Still On Top | August 09, 2005 |

Singer Hamasaki Ayumi (26) has topped the Oricon single chart yet again. "Fairyland/Alterna" is her 11th single in row to enter the chart at No.1, dating back to "Free & Easy" in April, 2002. It's her 23rd No.1 altogether, putting her in a tie for 3rd place with Mr. Children. Which is good news for her, after she had to pull out of Saturday's Avex-organized "a-nation '05" tour event in Sapporo due to acute inflammation in her nose and throat. On top of the album chart are Johnny's boy band Arashi with "One."
• Police sent papers to prosecutors on Mineda Kazunobu (27), vocalist of the indie band Ginnan Boyz, after he bared all at last weekend's "Rock in Japan Festival." Mineda was charged with public indecency after he dropped his pants twice for several minutes in front of 40,000 people during the band's performance on Sunday afternoon. Both he and his management agency were apologetic, especially as the event was the best possible exposure (pun intended!) for a band without a major label contract. The event also featured 65 of japan's biggest rock artists, including the first performance at an outdoor festival in 22 years by Southern All Stars, who played 14 of their summer hits.
• Ditzy talento Yamaguchi Moe (28) denied rumors that she is close to getting hitched. The prospect of wedding bells for her and Ozeki Shigeo (30), president of IT company Zeel, has reportedly been getting closer, but Moe just laughed off the question at a recent PR event.
Interesting story? Then add it to your favorite social site:







| | |
| --- | --- |
| Masako Wants Her Share | August 04, 2005 |

In one of the highest-profile showbusiness divorces of recent years, Mori Masako (46) is looking for a whopping ¥750 million settlement from her ex-husband Mori Shinichi (57), according to this week's issue of the "Josei Seven" magazine. Both are popular enka singers and have often performed as a couple for many years. But their marriage broke down in March this year at a time when both of them had been having treatment in hospital, Shinichi for hepatitis that has dogged him for years and Masako for stress and fatigue. At the time, it was said that Masako didn't want any alimony and sought only ¥200,000 a month in support for each of their children. Given his long-term health problems, Shinichi is said to have given his wife and kids money in the order of $yen;30 million every year. He is reportedly not happy about the latest demands and intends to fight them. It could be the beginning of a long battle.
• The latest trouble for talented singer songwriter Onizuka Chihiro (24) has been a stalker, it was revealed yesterday. A 38-year old unemployed man who has repeatedly turned up at her apartment showed up again, this time with a bunch of flowers, on July 26. He rang her doorbell for 30 minutes until he was arrested by police. Onizuka made a name for herself with songs such as "Gekko" but has been plagued by bad luck. In February 2002, she was in a traffic accident while riding on the back of a motorcycle, and two months later was hospitalized with acute enteritis. In September 2003, she had surgery for a polyp on her vocal chords. Then in 2004, her record company and management agency both severed ties with her. She changed to a new agency, but they cut her off last January. She is currently without representation, but is still making a very good living from royalties, something in the order of ¥60 million last year.
Interesting story? Then add it to your favorite social site:







| | |
| --- | --- |
| SMAP Still on Top of Their Game | August 03, 2005 |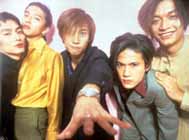 The popularity of five-man pop group SMAP shows no sign of abating. After recently kicking off their first national tour in two years, their new single and album releases both entered the Oricon charts at No.1, a first for the group (fellow Johnny's Jimusho artists Kinki Kids did it for the second time in January, and Hamasaki Ayumi (26) has also pulled it off twice). The single, "Bang! Bang! Vacance!" is their 37th consecutive Top 10 entry, puting them in joint first place with The Alfee. The album, "Sample Bang!" is their first in two years and is a 3-CD set that includes a disc of solo releases and another of remixed hits in addition to the new material. The tour kicked off at the Sapporo Dome on July 30 and will continue across the country until Septemebr 29. By that time, they'll have played 21 shows for over a million fans.
• And SMAP's popularity has rubbed off on a previously unknown group. Moldovan pop unit O-Zone's annoyingly infectious song "Doragostea Din Tei" has featured for several weeks in a segment of the "SMAPxSMAP" show on Fuji TV. Sung in Romanian, the Europop song has made No.5 in the Oricon singles chart and spawned its own "Japanese" soundalike lyrics (with the Japanese subtitle of "Koi no Myahii") and an animation featuring a partying cat.
• Rock band Mr. Children will release "I Love You," their first new album in a year, on September 21 and back it up with the first 5-dome tour. They will play domes in Osaka, Tokyo, Sapporo and Nagoya before finishing up at Fukuoka Yahoo! Dome on Christmas Eve. They are just the fourth band to play the five domes, following (of course) SMAP, B'z, and Southern All Stars. Vocalist Sakurai Kazutoshi (35) took an extended break from the group following a brain haemorrhage in the summer of 2002, and a planned tour was cancelled. But last summer, the band played their first national tour in three years. And Sakurai played 12 hours on stage over a recent 3-day festival event, so his health doesn't seem to be a concern anymore.
Interesting story? Then add it to your favorite social site:







| | |
| --- | --- |
| Watanabe Duped Out of ¥120 Million | August 02, 2005 |
Actor Wtanabe Hiroyuki (49) gave an "emergency" press conference in Yokohama yesterday to reveal that he had been one of the victims of a recent massive scam. He said he was one of over a thousand investors swindled by Gestion Privee Japon, asset investment consultants whose president has disappeared leaving the company bankrupt with debts believed to be in the order of ¥20 billion. The company was using investor's money in currency trading but declared bankruptcy at the Tokyo District Court at the end of July. Watanabe met with the GPJ president in July of last year and decided to invest ¥120 million of his own money, plus an additional ¥8 million through his own company. Though the company said its investment scheme would yield 60% profits in just two months, Watanabe only got ¥9.4 million of his money back. In his ress conference, he said, "I was worried about the future as I'm in a career that has no guaranteed income. I was stupid to think this was security for my future." He kept the investment secret from his wife, actress Hara Hideko (45), and only told her when news of the bankruptcy came out. The weekly magazine Flash this week revealed that Watanabe acted as emcee for an event held by GPJ in February, for which he received ¥8 million. He has flatly denied that he was a "poster boy" for the company. Watanabe first made his name in 1983 as one of the actors to appear in the famous "Faito! Ippatsu" series of macho TV commercials for Lipovitan D energy drink.
• The monthly TV ratings for Yomiuri Giants games hit another all-time low in July. In their home Kanto region, they managed a measly 8.5% average rating for the month as they continue to struggle in 5th place in the Central League.
Interesting story? Then add it to your favorite social site:







| | |
| --- | --- |
| Katchan Quits Orange Range | August 01, 2005 |

Orange Range's popular drummer Katchan (22) has quit the group. He dropped out of a tour in June, citing an injury to his hand, but the reason given for quitting was the old cliche, "artistic differences." He said that the time off had given him time to think about his career, and the decision was said to be agreed with the other members. The band will continue with its remaining five members, using a session drummer. They plan to go ahead with their scheduled appearance at the Summer Sonic festival on August 13. One of the biggest names in the young rock/hip hop scene and yet another to hail from Okinawa, Orange Range were the biggest selling artists of 2004. Katchan was perhaps the most popular member, and was chosen in a recent music show poll of young women as the artist they would most like to go to the seaside with.
• The Beach Boys played in Japan for the first time in 14 years yesterday. They were one of the biggest names on the bill for the third and final day of the Fuji Rock Festival in Naeba, Niigata Prefecture. The event was an even bigger success than ever, drawing over 125,000 fans to the idyllic mountainside venue, despite the growing popularity and number of other summer festivals.
• Talentos Fujii Takashi (33) and Otoha (24) cancelled a planned press conference to announce their wedding plans, due to the recent death of comedian Oka Hachiro. Oka was Fujii's "sempai" (senior) at the Yoshimoto talent agency.
Interesting story? Then add it to your favorite social site: