Japan Entertainment News - July 2004
| | |
| --- | --- |
| Kosakai Recovering from Cancer | July 31, 2004 |

Popular entertainer Kosaki Kazuki (48) is currently recovering at his Tokyo home following surgery for cancer. It was announced a few days ago that he would be stepping down temporarily from his regular afternoon show "Gokigenyo" but the reason was only made clear yesterday. A tumour was removed from his neck and was found to be malignant. The always bouncy Kosakai anoounced that he plans to return to work by September.
• Rock group Glay played to fans at Universal Studios Japan in Osaka last night, the prelude to their main show tonight with an expected attendance of 100,000! The band from Hokkaido are celebrating their 10th anniversary this year with Glay Expo 2004, after having been a bit quiet in the last couple of years. The project was two years in planning and cost ¥2 billion. Glay like to put on a big show - they played a venue in Tokyo in 1999 that pulled in 200,000 fans.
Interesting story? Then add it to your favorite social site:







| | |
| --- | --- |
| Howl For Venice | July 30, 2004 |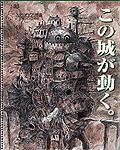 The new Miyazaki Hayao animated feature "Hauru no Ugoku Shiro" (Howl's Moving Castle) is to be entered in competition at this year's 61st Venice International Film Festival. The festival opens on September 1, and along with Cannes and Berlin is one of the major events of world cinema. Miyazaki's latest is considered a prime contender for the Golden Lion award, the top prize at the festival, especially as he took the Golden Bear at the 2002 Berlin Film Festival and the 2003 Best Animated Feature Film Oscar with "Sen to Chihiro no Kamikakushi" (Spirited Away). The film is based on a book of the same name by Diana Wynn Jones and is in the classic fairy tale style, with witches and wizards...and a moving castle. As is usual with Miyazaki's films the central character is a young girl. The project was originally to be directed by Hosoda Mamoru but after he abruptly quit, Miyazaki took over the reins. The film is due for release in November.
More information at Nausicaa.net
Interesting story? Then add it to your favorite social site:







| | |
| --- | --- |
| Sayonara, Oi-chan | July 29, 2004 |
Veteran actor Shimojo Masami, who played the role of the uncle of Tora-san in the film series "Otoko wa Tsurai yo" (It's Tough Being a Man), died of pancreas cancer Sunday at his Tokyo home, his son, actor Shimojo Atomu (57) announced yesterday. He was 88. He took the role of Ryuzo Kuruma, known as Oi-chan, the uncle of itinerant peddler Torajiro Kuruma, nicknamed Tora-san, from the 14th movie in the Yamada Yoji-directed series in 1974 through the last and 48th in 1995.
Interesting story? Then add it to your favorite social site:







| | |
| --- | --- |
| Yuusuke Married | July 28, 2004 |

It was revealed yesterday that popular TV personality Yuusuke Santamaria (33, real name Nakayama Yuusuke) recently got married. He is to make a formal announcement today at the Fuji TV center in Odaiba, Tokyo. Sources say the couple had been going out for four years and the new bride is a beautiful 35-year old company employee. Yuusuke has had a very busy schedule this year, appearing as a regular on several shows and the TBS drama series "Home Drama!" and his health has been said to be suffering. Yuusuke made his debut in 1994 as the vocalist of the "latin rock" band Bingo Bongo. After the band broke up in 1997, he made his breakthrough in the TV cop show "Odoru Daisosasen" (Bayside Shakedown). The movie version later became one of the biggest Japanese box office hits ever.
• Writer Nakajima Ramo died this week. As reported here on July 22, Nakajima was hospitalized after a drunken fall down a flight of stairs. He was 52.
Interesting story? Then add it to your favorite social site:







| | |
| --- | --- |
| "Sazan" Straight to No.1 | July 27, 2004 |
The new single by Southern All Stars has gone straight to the top spot on the Oricon singles chart. The double-A side "Kimi Koso Staa Da/Yume Ni Kieta Julia" is the band's 39th Top Ten release, which gives them sole possession of first place in the record books. In second place is 80s idol singer Tahara Toshihiko with 38 followed by The Alfee, still active and with 37 hits to their name. Sharing fourth place with 35 Top Ten entries are SMAP and Zard, both still going strong.
• Singer Saijo Hideki (photo, 49) is to be a dad for the third time. His wife Miki is four months pregnant. She is said to want another child, but after fathering three children in as many years, Saijo says he's had enough and just wants to live long enough to see his kids reach adulthood at 20.
Interesting story? Then add it to your favorite social site:







| | |
| --- | --- |
| Heating Up Asia | July 26, 2004 |
Two major acts brought the Japanese heatwave to neighboring countries at the weekend. In Seoul, it was Amuro Namie representing her country at the 2004 MTV BuzzAsia Concert. Her latest single "All For You" was released in both Japan and Korea on July 22. Following her first tour of the continent in May, Amuro seems to be aiming to become something of a Pop Queen of Asia.
• Meanwhile over in Bangkok, duo Tackey and Tsubasa played their first event outside Japan. They played at the Impact Arena to 10,000 screaming fans. During their trip, Takizawa Hideaki (22) and Imai Tsubasa (22) also visited an orphanage and a school for deaf and mute children and donated about ¥6 million.
Interesting story? Then add it to your favorite social site:







| | |
| --- | --- |
| Spanning the Generations | July 24, 2004 |

Pink Lady, the duo who defined "idols" in the 1980s, will perform alongside the biggest idol group of this generation Morning Musume on Fuji TV tonight. "Music Fair" will feature the teen sensations alongside the duo, who retired before they were even born but are enjoying a comeback this year.
• Singer songwriter Onizuka Chihiro (photo, 23) has signed with A&M Records. The popular artist's contract with Toshiba EMI came to an abrupt end in April with one album commitment remaining, and her future career had seemed in jeopardy. But the new signing with A&M, part of the Universal Music group, is seen as a chance for her to launch a career outside Japan. A release planned for October will be the first by the new label.
Interesting story? Then add it to your favorite social site:







| | |
| --- | --- |
| Next Up for Yagira - Elephant Boy | July 23, 2004 |
The next project has been announced for young actor Yagira Yuya (14), surprise winner of the Best Actor award at the Cannes Film Festival in May. He will star in "Hoshi ni Natta Shonen - Little Randy and Shining Boy," to be released next summer. It tells the true story of Sakamoto Tetsumu who went to Thailand to become an elephant trainer. After returning to build an elephant park in Japan, he was killed in a traffic accident at the age of 20. The movie will be based on the book by Sakamoto's mother. Filming will begin in October and take place in Japan and Thailand. With high school entrance exams coming up next spring, Yagira will study with a private tutor during the shoot. He plans to spend this summer vacation working with elephants.
Interesting story? Then add it to your favorite social site:







| | |
| --- | --- |
| Ramo Falls Again | July 22, 2004 |
Writer Nakajima Ramo (52) has been hospitalized in Osaka after falling down a flight of stairs while leaving a bar. The controversial writer and commentator is currently on probabtion after an arrest for marijuana possession in February of last year. He is said to have been drinking heavily recently.
• It was revealed yesterday that singer Nakamura Ayumi (38) and her 54-year old businessman husband have recently divorced. Nakamura has custody of their 5-year old daughter.
Interesting story? Then add it to your favorite social site:







| | |
| --- | --- |
| Buck Tick Vocalist Married | July 21, 2004 |
Sakurai Atsushi (38), vocalist of the rock band Buck Tick, revealed on the band's web site yesterday that he got married last month. The very brief announcement included no details of the new bride. Sakurai plays his first solo live concert tonight at the NHK Hall in Tokyo and is expected to make a more formal announcement to fans then. Buck Tick, one of Japan's more established rock groups, have been going since 1987.
• Saito Masumi (26), the busty former pin-up girl who briefly made a name for herself as the date of comedian Sanma Akashiya (49), recently married baseball player Goto Mitsutaka (25), an infielder for Orix Blue Wave in the Pacific League.
Interesting story? Then add it to your favorite social site:







| | |
| --- | --- |
| One-Night "Sazarn" | July 20, 2004 |

Rock singer Oguro Maki (34) and her husband, a 34-year old IT company employee, held their wedding ceremony at a central Tokyo hotel yesterday. The couple registered their mariage last November. The four and a half-hour reception was attended by over 250 friends and felow celebrities.
• Popular band Southern All Stars (known simply as "Sazarn") had their first live TV broadcast in 26 years on Saturday night. The show was broadcast from a "live house" in Tokyo's Ariake on the Fuji TV network from 12:30am, and ran until 2am. It is the only live event that the band - known for their summers shows and hits - will perform this season.
• At the weekend, actress Matsu Takako (27) admitted her relationship with guitarist Sahashi Yoshiyuki (42). It was the first time since the the pairing was revealed in March that Matsu has spoken about it. Sahashi is one half of the guitar duo Yamagen and also Matsu's musical producer.
Interesting story? Then add it to your favorite social site:







| | |
| --- | --- |
| Star of the Ratings | July 17, 2004 |
Fortune teller Hosoki Kazuko (66) is a hot item at the moment. Two recent variety shows featuring the straight-talking Tokyo woman have topped the viewer ratings, and she is to be rewarded with her own show alongside young pop idol Takizawa Hideaki (22). The show "Zubari Iuwayo!" (I'm Gonna Speak Frankly!) will start on TBS on August 10. Hosoki is the author of many books and has sold almost 40 million, and was reconized as the world's best-selling author in her category by the Guinness Book of Records in 2001. She has studied many branches of Oriental fortune telling and divination.
Interesting story? Then add it to your favorite social site:







| | |
| --- | --- |
| Boys in Trouble | July 16, 2004 |

Veteran actress Awaji Keiko (70) has finally given up on her deliquent son. Actor Yorozuya Kichinosuke (31), the youngest of her four sons, was handed down a 6-month prison sentence for breaking into her Tokyo home in May. He said at the time that he just wanted to see his mother, but he has a record of stealing from her home. Kichinosuke is the son of the late actor Yorozuya Kinnosuke, Awaji's second husband whom she divorced in 1987. Their eldest son (Awaji's third) Akihiro died in a car crash in 1990. Kichinosuke made his acting debut alongside his father at the age of six. He had been out of work in recent years and developed an alcohol problem. A tearful Awaji spoke to the press yesterday and said she had "no more love" for her son.
• The ex-husband of actress and model Umemiya Anna (31), named as Chiba Takashi (33), was arrested in Tokyo yesterday for running an illegal gambling operation (see Wednesday's story for more details).
Interesting story? Then add it to your favorite social site:







| | |
| --- | --- |
| Steamboy to Close Venice Fest | July 15, 2004 |

Otomo Katsuhiro's acclaimed new animated movie "Steamboy" has received a special invitation to close the 61st Venice International Film Festival in September. It will mark the first time a Japanese anime has been chosen to open or close one of the major festivals (Cannes, Berlin, Venice). Otomo (50), director of the classic "Akira", and main voice actress Suzuki Ann (17) both plan to attend the event. "Steamboy" was 9 years in the making and developed at a cost of ¥2.4 billion. Featuring 180,000 frames, it is set in England during the 19th-century industrial revolution. The movie opens in Japan on July 17.
Interesting story? Then add it to your favorite social site:







| | |
| --- | --- |
| Anna's Ex a Wanted Man | July 14, 2004 |
The former husband of actress and model Umemiya Anna (31) has been issued with an arrest warrant for running an illegal casino. Named only as "C-san" (33) and self-employed, he is said to have made about ¥2.6 billion in just two months from the baccarat operation in Tokyo's Roppongi entertainment district. Umemiya's office denied that the pair had been in contact recently and emphasized that there had been no financial disputes at the time of their divorce. The couple married in June 2001 and had a daughter the following January. They divorced in January 2003.
Interesting story? Then add it to your favorite social site:







| | |
| --- | --- |
| Tomoko, Kimutaku Reunited | July 13, 2004 |

Actress Yamaguchi Tomoko (39) is to make her variety show debut at long last. She will be the special guest on SMAP's annual Fuji TV summer special "SMAPxSMAP" on July 19. When I read that she is publishing a new book a few days later, the timing seemed obvious. But it appears she won't be plugging her book or anything else on the show - a very rare case indeed. One of the most popular stars of the late 1980s-early 90s, she married actor Karasawa Toshiaki (41) in 1995. After that, her only drama role was in the 1996 hit "Long Vacation," alongside SMAP's Kimura Takuya (31), until a comeback this January. Otherwise, she has only been seen in TV commercials and has written some books.
Interesting story? Then add it to your favorite social site:







| | |
| --- | --- |
| Yojuro to Head Family | July 12, 2004 |

Nomura Yojuro (photo, 38) will become the new head of the traditional kyogen family of Nomura Manzo next January. The role had been designated for his elder brother Mannojo, who passed away last month at the age of 44. Their father Nomura Man (74) announced the new successor during a funeral service for Mannojo in Tokyo. Yojuro will become the ninth actor to take on the Manzo name.
• Pop diva Matsuda Seiko (42) sang the national anthem at a stadium for the first time to open the second Sanyo All-Star baseball game yesterday. Accompanied by comedian Ishibashi Takaaki (42), she was clearly very nervous and couldn't hold back the tears after her rendition of "Kimigayo."
Interesting story? Then add it to your favorite social site:







| | |
| --- | --- |
| Matsuzaka, NTV "Ana" to Wed? | July 11, 2004 |

It seems that the relationship between the Seibu Lions' star pitcher Matsuzaka Daisuke (22) and Nippon TV announcer Shibata Tomoyo (29) may be getting more serious. After Matsuzaka had been named the MVP for the first All-Star game yesterday, he appeared on the show "Sportsu Urugusu", on which Shibata is one of the hosts. Both seemed nervous and could hardly look at each other. Asked why he had seemed so calm as starting pitcher, Kintetsu Buffaloes hurler Iwakuma Hisahi (23) quipped "Well, I guess 'cos I'm married!" The remark was followed by an uncomfortable silence. A relationship between the pair was first rumored by gossip magazine Friday almost 4 years ago.
Interesting story? Then add it to your favorite social site:







| | |
| --- | --- |
| Katagiri Papa | July 08, 2004 |
Comedian Katagiri Jin (photo right, 30), one half of the duo Ramens, has become a father. His wife, former model Murayama Yuki (25), gave birth to a baby boy at a Tokyo hospital yesterday. Katagiri was performing at a stage production but managed to arrive in time for the delivery. The couple married in February of last year.
Interesting story? Then add it to your favorite social site:







| | |
| --- | --- |
| Nezu Kills Cyclist | July 07, 2004 |
Actor Nezu Jinpachi (56) collided with a cyclist while driving in Meguro, Tokyo yesterday morning. The 67-year old unemployed man suffered a severe head injury and died later in hospital. Police are investigating Nezu for negligence. Nezu became a successful stage actor in the early 1970s and later moved into movies. He developed a reputation as a talented actor in a host of films, including two by the legendary director Kurosawa Akira. He has won two Japan Academy Awards. The fatal accident is the first involving a showbiz personality since Ohtake Makoto (55) hit a motorcyclist in 1996. Ohtake was back at work two weeks later.
Interesting story? Then add it to your favorite social site:







| | |
| --- | --- |
| Kikkawa, Amami Romance Official | July 06, 2004 |
The Japanese entertainment world has a new "hot couple". Actress Amami Yuki (photo, 36) and musician Kikkawa Koji (38) ongoing romance was revealed today by the Sports Hochi newspaper. It reported that the pair, who have known each other for ten years, started getting serious last autumn. Amami says they are not considering marriage, but reporters predict wedding bells. Kikkawa started as an actor and rock musician in the mid-1980s. He formed the group Complex with guitarist Hotei Tomoyasu in 1988 and pursued a solo career through the 90s. In 1985, Amami graduated top of her class from the school run by the all-female Takarazuka theater troupe. She rose to the rank of top "male" star in record time and quit the troupe at the height of her popularity in 1995. She's now a regular on TV, stage, movies and commercials.
• Popular young enka singer Hikawa Kiyoshi (26) cancelled recent shows in Tokyo after coming down with a throat infection.
Interesting story? Then add it to your favorite social site:







| | |
| --- | --- |
| The Next Big Thing | July 05, 2004 |

The latest musical offering from Okinawa (that has produced Amuro Namie, Speed, Mongol 800 and current hot act Orange Range) is pop duo D-51. They make their official major debut this week with "Top of the Summer" but have already been featuring on radio and TV "powerplay" spots nationwide thanks to a serious push by their label, Pony Canyon. The tune is being used as the ending of the Fuji TV pop show "Hey! Hey! Hey! Music Champ. The duo is made up of Yasu (22), who hails from Naha, and Yu (20) from Ginowan. In May they had 17 record labels fighting for them.
D-51 official siteInteresting story? Then add it to your favorite social site:







| | |
| --- | --- |
| Aloha, Gorie! | July 01, 2004 |
Popular comedy character Gorie has been chosen as the Mascot Girl for the Hawaiian island of Oahu, and last night's "One Night Rock 'n' Roll" was a one-hour special mostly filmed in Hawaii. Created by Gori (32) of the comedy duo Garage Sale and a regular feature on the Wednesday night Fuji TV show, Gorie has become a cult figure particularly among high school girls and young women. "She" has even appeared on the cover of popular teen fashion magazines. The Okinawan duo are one of three comedy pairings on the "One-Nai" team, and play several female characters on the show, despite the fact that both are dark and swarthy. The cross-dressing and other outlandish characters are nothing new in Japanese comedy, but "One-Nai" has managed to anger viewers with their more controversial humor, such as making fun of baseball legend Oh Sadaharu. Of course it's hard know if the controversy is real or just a publicity stunt.
Interesting story? Then add it to your favorite social site: