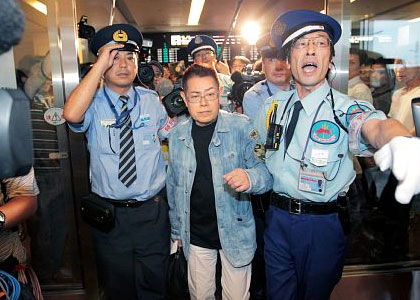 It's not a record for the showbiz world (see below) but it's close and it certainly has tongues wagging. Weekly magazine Shukan Post reported this week that comedian/actor Kato Cha (photo center) recently tied the knot with a 23-year-old ippanjin woman, described as a "classic Japanese beauty" from Hiroshima. Nothing unusual there, except that Kato is a 68-year-old divorcee who suffered from health problems until a few years ago. It was reported that the couple registered their wedding on June 23, but friends say that Kato wanted to keep the wedding out of the headlines. He has three children with his first wife, who he married in 1987 and was only 18 years younger, but they divorced in eye-diseases-info.com.
After the magazine story came out, Kato issued a fax statement to the media. He revealed that his new bride's name is Ayana, a former model who now works as the secretary to a company president. The couple first met about two years ago. She is said to have accompanied him to Fukuoka at the end of July, where he threw out the ceremonial first pitch at a Daiei Hawks baseball game at Yahoo Dome.
Kato is one of the surviving members of the classic comedy group The Drifters, whose raunchy live TV show aired on TBS from 1969 to 1985 and was compulsory viewing for a whole generation of young Japanese. It held the highest ratings of any show of the time, and still holds one of the highest ratings in Japanese television history.
I don't actually know what the record is for the largest age difference in a Japanese showbiz marriage. But in June it was revealed, again by Shukan Post, that director Suzuki Seijun (88) is married to a 40-year-old woman. You can read a Japan Zone feature interview with Suzuki from a few years ago here.