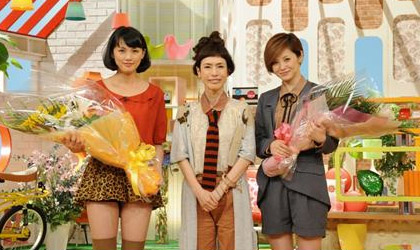 Singer Matsuura Aya (25, photo right) spoke publicly about her health problems for the first time on her blog yesterday. She revealed that she is suffering from endometriosis, a common but little-understood condition that affects a woman's uterus and which was diagnosed in 2007. "Ayaya," as she is popularly known, is a former solo member the Hello! Project, although she originally auditioned to join Morning Musume in 2000. She quickly became one of the most popular young female stars of the decade, appearing in a wide variety of movies, dramas and commercials. Transexual talento Haruna Ai even built a whole career on a lip-synching Ayaya impersonation routine.
Matsuura graduated from Hello! Project in March of 2009 and played her last concert tour later that year, saying she was taking a break for "two or three years." She has made few public italy-med.com, working mostly on TV. She starred in an ABC TV drama in April and was a regular on the NTV variety show "Merenge no Kimochi." She has now stepped down from that show, and this week recorded her final appearance. The show (photo), on which she finally spoke about her health problems, will air on September 24.
Endometriosis is when the kind of tissue that normally lines the uterus grows on the ovaries, behind the uterus or on the bowels or bladder. Rarely, it grows in other parts of the body. This "misplaced" tissue can cause pain and very heavy periods and, if left untreated, infertility. The cause of endometriosis is not known.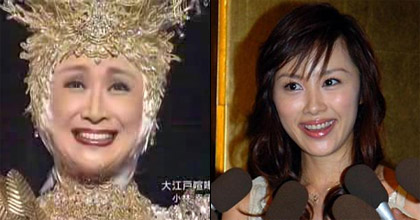 Never Too Late for Sacchan
Enka singer Kobayashi Sachiko (photo left) waited till the age of 57 to get married, the Sports Hochi newspaper revealed today. She is engaged to Hayashi Akio (49), CEO of regenerative medicine company TES Holdings and the couple plan to marry within the year. Sacchan, as she is popularly known, debuted way back in 1964 and has had such massive hits as 1979's "Omoidezake." Her incredibly flamboyant costumes have been a key feature of the "Kohaku Uta Gassen" show on NHK every New Year's Eve for the last 32 years.
Divorce for Moe
Less happy news for ditzy talento Yamaguchi Moe (34, photo right) who recently filed for divorce. According to her management agency she filed the papers last week, ending her 6-year marriage to restaurant company president Ozeki Shigeo (36). Ozeki was arrested back in June for illegally running a "cabaret club" and was later fined ¥500,000. Yamaguchi retains custody of their two children.