Suzuki Seijun - Legendary Movie Maverick
By Rawle Austin

A Brief Audience with Suzuki Seijun - The Legendary Japanese Film Director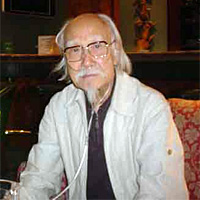 I went to meet Suzuki Seijun at a London hotel which had been organised by Chris Barwick of Yume Pictures.
For someone in his early eighties Suzuki was very sprightly, despite the fact he had a breathing aid in the form of an oxygen tube connected to a mobile tank which he carried around on a mini trolley.
He walked around the hotel foyer very quickly and I couldn't help but be impressed by his indomitable spirit and infectious smile. He clearly has a joy for life and wasn't going to allow any mere trifle such as age get in his way.
Suzuki has been creating movies in Japan for over 30 years and has a huge global cult following. A host of media players had gathered to meet this living legend and, understandably, towards the end of the afternoon he was a little tired. On finally meeting him I was struck by his humility and graciousness. He had come to London with his partner, Sueyoshi Takako, his interpreter Ko Mika and producer friend, Kimura Kazuhiro. In London to promote his new film Princess Raccoon starring Zhang Ziyi, I briefly spoke to him to get a few words from the genius.
Rawle Austin: Who inspired you to make movies?

Seijun Suzuki: No one particularly. All the film directors in the world.

RA: How did you first get into film making?

SS: After World War 2 there was a job shortage. I had no intention to get into film making but it just happened. There was nothing else to do

RA: What do you enjoy most about making movies?

SS: The time before shooting the film is the most enjoyable. In particular [I mostly enjoy] the process of choosing the actors.

RA: How would you describe the film Princess Raccoon to our readers?

SS: It's a mixture of singing, dancing and romance.

RA: How would you describe working with actress Zhang Ziyi?

SS: It was really good.

RA: What was your favourite experience during making this movie?

SS: The most enjoyable moment was when the actors were singing. I cannot decide if there was one favourite piece of the film, the film is the piece. I didn't have one favourite experience. There were so many.

RA: What advice would you give to young movie directors starting out?

SS: I want to get advice from them rather than giving them advice.

RA: And finally, how would you describe today's Japan?

SS: It's democratic.
And there it was. Brief and poignant. He posed for some photos with his entourage and then said his farewells. It was a real pleasure to meet him. Princess Raccoon is out on DVD on 25 September 2006. It will be well worth seeing.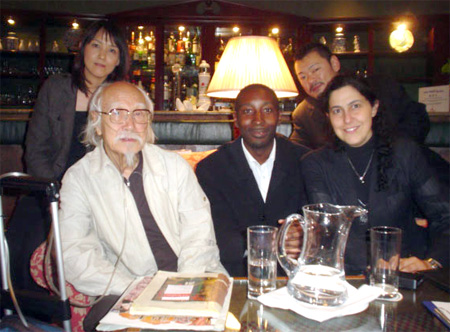 Rawle Austin (center) with Suzuki Seijun and his associates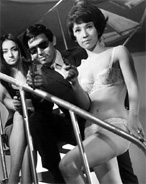 A scene from Branded to Kill (1967)
Profile: Suzuki Seijun, born 24 May 1923 in Nihonbashi, Tokyo, is a world renowned film director who has inspired countless directors over his long career. Among the notable films he's directed are the two yakuza thrillers Tokyo Drifter (1966) and Branded to Kill (1967) and also Lupin the Third: The Golden Legend of Babylon (1985). His creative ideas for films were way ahead of their time and, in 1967, this resulted in him being, for all intents and purposes, blacklisted from making movies in Japan for ten years. This was due to his films' perceived complicated storylines. Storylines which ironically today are commonplace in films worldwide.
Suzuki's classic films have been undergoing a revival of late with leading film distributor Yume Pictures releasing a 'Suzuki Collection'. This is a compilation of his greatest films including Pistol Opera (2002), The Fighting Elegy (1966), The Flowers and the Angry Waves (1964) and Fighting Delinquents (1960).
For more information please see Yume's website at www.yumepictures.co.uk
---