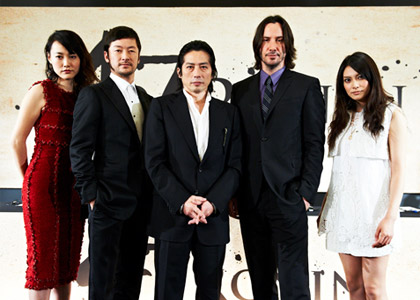 It's finally official. Rumors and sketchy reports of a Hollywood project starring Keanu Reeves as a medieval samurai were confirmed yesterday by a formal press conference and cast announcement in London. To be directed by Carl Rinsch and with a budget reported at $170-200 million, "47 Ronin" is an adaptation of the famous Chushingura story of samurai loyalty and revenge based around real events that took place in the early 1700s. The story has been adapted countless times for stage, TV and the big screen but never before in English.
The choice of Reeves (46) for the lead role as a Japanese warrior has many people scratching their heads, but the latest report says his character Kai will be "half-Japanese, half-British." And he will have some seriously heavyweight Japanese acting support. Named to the cast yesterday were (left to right):

Asano Tadanobu (37), star of "Mongol" and Miike Takashi's "Ichi the Killer," who has a couple of other Hollywood projects coming up – a supporting role in "Thor" and "Battleship". He will play shogunate official Kira Yoshinaka;
Kikuchi Rinko (30), nominated for an Oscar for her supporting role in "Babel." She has the role of the mysterious lady Mizuki who helps Kira in his quest for power;
Sanada Hiroyuki (50), best known overseas for his roles in "The Last Samurai," "Speed Racer" and the final season of "Lost." He will play the key role of chief samurai Oishi Kuranosuke;
Shibasaki Kou (29), who made her movie debut in 2000 in Fukasaku Kinji's acclaimed "Battle Royale." Shibasaki said she is "so excited" to play Reeve's love interest Mika, the daughter of samurai Asano Naganori.
Rinsch caught the attention of movie studios with the storytelling of his commercials, such as the short sci-fi film "The Gift," and at one point he was named to direct a prequel to Ridley Scott's "Alien." More recently Universal Studios have signed him to follow up his debut on the Reeves feature with a remake of "Creature From the Black Lagoon." Speaking yesterday about 47 Ronin, he said, "What drew me to it were the universal themes. Love, hate, revenge, these are ideas that translate all over the world. This take is so different, it's about visualising the dream of Japan from a Western view. Instead of it being a historic epic we wanted to turn it into a fantasy." Shooting starts March 14 in Hungary and will later move to Shepperton Studios in the UK, with unspecified plans to also shoot in Japan. The movie will be in 3D and has a release date of November, 2012.
Japan Zone eagerly awaits the movie's release for one other reason – we were chosen by the 47 Ronin production team to supply a variety of costume items for the movie. So if you want to be seen in the same footwear as Keanu Reeves and Co., visit our Japan Store!