A couple of celebrities taking a walk down the aisle, figuratively speaking, for the second time this week. Talento Henmi Emiri (34) and actor Matsuda Kenji (39) got married yesterday, an auspicious "taian" day in the traditional calendar. Shortly before registering her marriage, Henmi met with her mother, singer Henmi Mari (60), and no doubt they discussed how best to avoid yet another divorce. Emiri, whose brief marriage to fellow talento Kimura Yuichi (48) ended in 2008, came from a broken home. Her mother split with actor Saigo Teruhiko (64) in 1981 and remarried a jewelry designer in 2001, but that also ended in divorce in 2005.
Matsuda is best known for his 2005 role as the bike-riding action star Kamen Rider Hibiki. He and Henmi met last May when they worked together on the stage production "Wana." By August the weekly magazines were reporting that they were living together. They are hoping to have a wedding ceremony in June.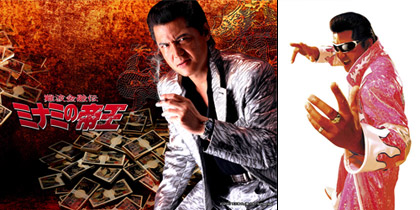 Meanwhile, management for tough guy actor Takeuchi Riki (47) announced yesterday that he tied the knot last November 11. His new bride is a 37-year-old ippanjin who is also a divorcee. The couple didn't have a wedding ceremony and have no such plans. Takeuchi and his former bar hostess wife of six years split in January 2006, and he is said to have met his new love at a Christmas party in 2009. Both have a child from their previous marriages but it isn't known who has custody.
Takeuchi is best known as the star of the "Minami no Teio" (King of Minami) series of yakuza movies, straight-to-video releases referred to as "V-cinema." Last year, shortly before he married he announced a whole new series, written, produced by and starring Takeuchi, who also sings the theme song. In "Kage no Koshonin – Naniwa Ninjo Retsuden" (Shadow Negotiator) he plays a former cop who bends the law to bring bad guys to justice. He has appeared in somewhat more mainstream films as Miike Takashi's "Kikoku" (Yakuza Demon, 2003) and "Battle Royale II" (2003). In recent years he has also taken on the role of his Elvis-like "twin brother" Riki (photo right), a flamboyant showman.