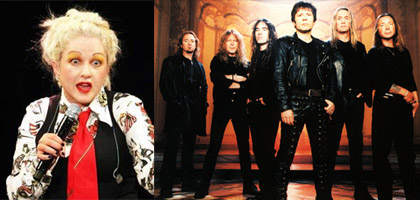 American singer Cyndi Lauper (57) says she will go ahead with her planned Japan tour in spite of the recent disaster. One of the more genuine pop stars of her generation, she is as much a fan of Japan as its people are of her. She donated generously to relief efforts following the Great Hanshin Earthquake in 1995 and has already announced plans to raise funds at her upcoming shows.
Lauper was scheduled to land at Narita International Airport shortly after the biggest earthquake ever measured in Japan struck of the northeast coast on Friday afternoon. Her flight was diverted to the U.S. Air Force base in Yokota, where she landed about 10pm. From there she transferred to a flight to Haneda Airport in the capital. Chaos in the city was such that she finally reached her hotel at 4:30am. Her schedule is due to start on March 15 in Nagoya and head to Tokyo for shows at the Orchard Hall on March 16-18. With the capital now enduring rolling power blackouts, her shows will also encourage fans not only to donate to the relief effort but also to conserve electricity.
Also due to land in Tokyo last Friday were British heavy metal giants Iron Maiden, whose flight was diverted to Nagoya. The band released a statement expressing their regret over having to cancel two shows due to "obvious safety concerns towards the audience, the artist and the venue." Singer-songwriter Jack Johnson has postponed four Japan dates that were due to kick off today in the city of Sendai, one of the worst hit by the earthquake and tsunami.