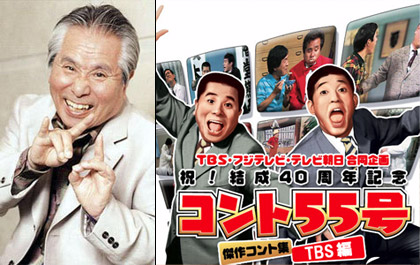 Sakagami Jiro, one of Japan's most popular postwar comedians, died yesterday morning following a stroke at a Tochigi Prefecture hospital. He was 76. "jiro-san," as he was popularly known, and Hagimoto Kinichi (69) formed the comedy duo Conto 55-go in 1966.
Sakagami was born in Kagoshima Prefecture but spent most of his early years growing up in Japanese-occupied Manchuria before returning home to attend school. At the age of 19 he won a regional song competition hosted by NHK and headed to Tokyo to pursue a singing career. He went through several jobs before turning to comedy. Like many young comedians of the time, he honed his skills in Tokyo's strip clubs. It was there that he first met and performed with Hagimoto, though it would be several years before they formed a duo and found success, first on stage and then in the formative years of TV comedy. In the early 1970s he branched out into acting, and landed a leading role in a TBS detective series in 1974.
Sakagami first suffered a stroke while playing golf in 2003. Fortunately one of the other players was a doctor and immediate hospitalization saved his life. He underwent rehabilitation and made a full recovery nine months later. In 2005 he released his first original song in five years, and opened a school for young comedians in Tochigi. In 2006, he followed in Hagimoto's footsteps and became manager of an amateur baseball team. He suffered another stroke last August and was hospitalized for several months. He was scheduled to give a stage performance this New Year, but that was canceled as he felt it would be unprofessional to take the stage in a wheelchair.