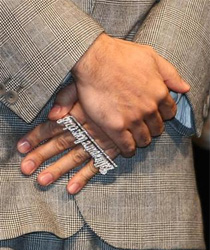 Fashion designer Nigo (37) certainly had a good day yesterday. Not only did he announce his marriage to actress Makise Riho (see below), but he was also named one of the "GQ Men of the Year." The 3rd annual awards from the men's magazine also went to the multi-talented Kitano "Beat" Takeshi (61), comedian Sekai no NabeAtsu (39), Olympic medal-winning sprinter Asahara Nobuharu (36), Arashi member Matsumoto Jun (25), and artist Murakami Takashi (46). Nigo is the founder of the popular youth fashion brand A Bathing Ape (or BAPE) and is said to make ¥500 million a year. He's also been active on the musical front, producing and performing at home and abroad with the Japanese hip hop unit Teriyaki Boyz. He declined to make any comment yesterday about his marriage but he wore a very gaudy "wedding ring" that looked more like a diamond-encrusted knuckle duster (photo).
Earlier Story

Makise Riho, BAPE's Nigo Get Hitched
They say there's no such thing as bad publicity. But it seems that everything singer Yasuha (47) does only tarnishes her image. The eccentric daughter of a top rakugo artist, she recently ended a tempestuous 20-year marriage to rakugoka Shunpuutei Koasa (53). She has since had multiple outbursts on her blog and at press conferences during which she alternately insulted, apologized to, and praised her ex-husband. She recently made her performing comeback with an off-the-wall single and, in a sign of just how low she's prepared to go, she announced that she will debut with the "Hustle Mania" pro wrestling troupe on December 30. The latest development is that she's been sued by the president of a Kyoto kimono company and two others who say she verbally abused them over the telephone and slandered them on her blog. There is already an ongoing case at the Tokyo District Court between Yasuha and the businessman, who claims she failed to pay ¥20 million for kimonos he supplied to her production company.
Earlier Story