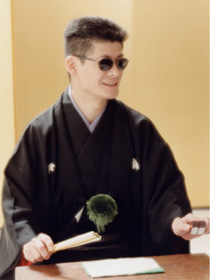 Blind rakugoka Shoufukutei Hakkaku (51) was seriously injured at a train station in Osaka late Monday night. He fell against a train that he had just disembarked from as it was pulling out of the station. His leg was caught between the train and the platform and he was dragged for about 15m, causing a brain contusion and breaking both his legs. Shoufukutei was on his way home after a night out on the town in Osaka with a fellow rakugoka. Watching from the train, his friend saw him walk into a pole on the platform as he headed for the exit. He turned and started staggering the other way, which is when he walked into the moving train. The Hankyu Takarazuka line train continued on its way as the driver and conductor didn't notice the accident. Shofukutei is the only completely blind performer in the rakugo world of traditional comic storytelling.
• At a regular press conference yesterday, Fuji TV formally acknowledged that they received a demand from the management of Oda Yuji (40) for talento Yamamoto Takahiro (33) to stop doing his impersonations of the popular actor. It was revealed in the weekly magazine "Shuukan Gendai" that the demand had gone out to all the TV networks. Fuji director Suzuki Katsuaki said that the network had no intention of making any changes to its scheduling and that they would allow Yamamoto to perform as he saw fit. The comedian has other routines but by far the most popular over the last year have been his over the top impersonations of Oda's "Kitaaa!" catchphrase from a TV commercial and enthusiastic coverage of major sporting events.
• Southern All Stars frontman Kuwata Keisuke (52) performed a solo charity concert at Yokohama Pacifico yesterday. During the Act Against Aids benefit, he performed a set that lasted more than three hours and featured 60 songs, including hits by such diverse artists as Misora Hibari and Koda Kumi. SAS are currently on an indefinite break from performing.
• One of Japan's busiest supporting actresses, Fukatsu Eri (35) has landed her first movie starring role in 13 years, it was announced yesterday. She plays the lead role of a manga artist stuck in a slump in "Onnanoko Monogatari," adapted from the Nishihara Rieko manga of the same name. The movie, which already finished filming in October, is directed by Morioka Toshiyuki and is due for release next autumn.
• Talento Kinoshita Yukina (20) inadvertently revealed yesterday that she split up with her boyfriend earlier this year. She was a guest model in the bridal fashion show by talento turned designer Kanda Uno (33). When asked by Kanda whether she had a "darling," the always plain spoken Kinoshita blurted out that they had split up during the summer. She will make her debut appearance on this year's "Kohaku Uta Gassen" as a member of the pop trio Pabo, made up of several talentos famous for their low I.Q.
• Popular voice actor Miyano Mamoru (25) announced on his website yesterday that he recently got married. The voice of Yagami Light in the hit anime series "Death Note," Miyano added that his new bride was expecting a baby. But he gave no details about her or when they tied the knot.