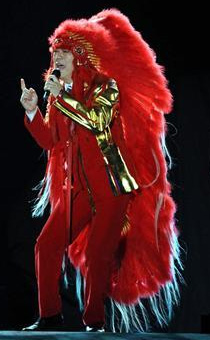 Singer Sawada Kenji held a concert at Tokyo Dome yesterday to celebrate his 60th birthday. The show followed the November 29 concert at Kyocera Dome, Osaka. Yesterday's performance started at 3 o'clock in the afternoon and continued for six hours and forty minutes, the longest ever solo concert at the dome. Midway through the show Sawada, popularly known by his nickname Julie, broke down in tears saying he was overwhelmed that 32,000 people would take off work or close their businesses to attend a weekday afternoon concert. Repaying their support, he performed a set of 80 songs that covered the span of his long career. During the first part of the show he sang 42 songs, from his time as frontman for 60s band The Tigers, to the hits by 70s rock band PYG, and with many solo hits thrown in too. Among those in the audience were Sawada's wife, actress Tanaka Yuko (53), Tigers bandmate Kishibe Ittoku (61) and musician Morimoto Taro (60). Sawada's birthday was actually in June, but in Japan turning 60 is a cause for a special celebration, known as kanreki. He started the show in a white suit and Native American headdress, but according to kanreki tradition, for the second half he wore all red including a red headdress.
• A date has been set for the first court hearing in the copyright fraud case against top music producer Komuro Tetsuya (50, profile). Once one of the wealthiest and most successful people in the Japanese music industry, he is accused of swindling ¥500 million from an investor by offering to sell him the rights to hundreds of songs he had written but which actually belonged to the Avex record label. He will have his first appearance at the Osaka District Court on January 21, exactly two months after he was prosecuted. He was released from the Osaka detention center on ¥30 million bail.
Earlier stories:
Komuro Tetsuya Faces Arrest for Fraud
• Comedian Ota Hikari (43) of the duo Bakusho Mondai missed his regular slot on the live Fuji TV afternoon variety show "Waratte Iitomo!" yesterday because he was in hospital having a hernia operation. The procedure is his second and was planned four months ago. He is expected to be back in his regular emcee job on the TBS news variety show "Sunday Japon" this weekend.
• Actress Suzuki Honami (42) is making her comeback after ten years away from showbiz. One of the most popular faces of the 1990s, she quit acting when she married comedian Ishibashi Takaaki (47) in 1998 (she was also married to a motor journalist from 1995-97). Her last public appearance was in September 1999, just after she had her first child, for the opening of her final movie, "Ichigensan." She and Ishibashi have three daughters, the youngest of whom is now in school. Suzuki will appear in the January issue of women's magazine "Misesu," and is said to also be planning to return to acting. She is with the same Arrival agency that represents her husband and Kinashi Noritake (46), better known as the duo Tunnels (profile), but she plans to use her maiden name.