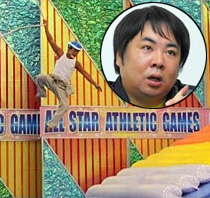 Fuji TV announced yesterday that comedian Tsukaji Muga (37) broke his leg during recent filming of a variety show. He and a group of fellow comedians were filming the popular "All Star Athletic Games" corner for the "Haneru no Tobira" show on December 5. Like many Japanese comedy shows, it features plenty of pratfalls and other physically demanding stunts. Fuji says all possible safety measures had been taken and Tsukaji had attended rehearsals as usual. A full recovery is expected to take two to three months. Tsukaji is one half of the popular duo Drunk Dragon. He has recently been developing a good reputation as an actor, and landed a few major TV and movie roles. In a statement, he apologized to fans and program staff for the "meiwaku" (inconvenience) and promised to make a speedy recovery.
• Japan lost one of its great postwar songwriters last weekend, with the death of Endo Makoto. He died of a heart attack at a Tokyo hospital on Saturday morning. He was 76. The writer of over 5,000 songs, he became chairman of the Japan Composers Association in 2005. Among his most famous hits are Sen Masao's "Kitaguni no Haru" and Funaki Kazuo's "Koukou Sannensei." He was attending a party in mid-October when he experienced chest pains and was hospitalized. He had bypass surgery, an operation he also underwent in Hawaii in 1988.
• Retired comedian Wakai Hayato died of heart failure at his home in Osaka early yesterday morning. He was 64. One half of the manzai duo Wakai Pon-Hayato, which split up in 1985, he had since been a solo comedian performing in theaters in his hometown. His agency, Shochiku geino, said he had won a battle against throat cancer two years ago and seemed in good health last weekend. His wife went to wake him on Monday morning, only to find that he had died in his sleep. Among his proteges are talentos Yamada Hayato (47) and Moriwaki Kenji (41).
• Some wedding news: popular talento Suzuki Sarina (31) got hitched to reggae singer Tela-C, a member of the group Infinity16, on December 6. The couple have been dating for about five years. Suzuki broke the news during her regular appearance on the Fuji TV variety show "Mecha Mecha Iketeru!" Meanwhile, Kato Yoshiyuki (30) of the 6-member acapella group Rag Fair is engaged to be married, it was revealed on Sunday. He was recording in Tokyo in May when he met his future 24-ear-old bride, who was doing a part-time job near the studio. She is said to be starting out as a stage actress.
• Fuji TV's Takashima Aya (29) has once again been ranked as Japan's most popular female TV announcer. It's the fifth time in a row for "Ayapan" to gain the top spot in Oricon's twice-annual ranking. In fact, she's been the only winner since it started in January 2006. She will now enter its "Hall of Fame," opening the way for a new winner next time.