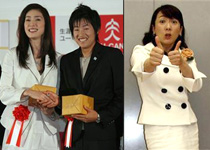 The eagerly awaited annual awards season is underway. Yesterday saw the announcement of the Shingo-Ryukogo Taisho, awards given for the new and trendy words and phrases that best represent the last year. Comedienne Edo Harumi (photo right), who was one of the biggest breakthrough names of 2008, was a winner for her "Goo!" catchphrase. The other main prize was awarded to actress Amami Yuki (41, photo left), whose TBS spring drama series launched the word "arafo," an abbreviation of the show's title "Around Forty." She was on hand to accept the award, but Edo was nowhere to be seen and had to phone in her acceptance speech. Speaking to reporters after she arrived several hours late, she said, "I didn't expect to win so I had work scheduled for this afternoon." Other winners included softball pitching ace Ueno Yukiko (photo center), whose 413 pitches in three consecutive games helped Japan win the gold at the Beijing Olympics.
• The final nominees and winners of this year's Record Taisho awards were announced in Tokyo yesterday. Twelve artists were named for the best song, five for the best newcomer, with the overall winners to be announced during a live TBS broadcast on December 30. The award for best vocal performance went to popular Osaka enka singer Nakamura Mitsuko (58), while Amuro Namie (31, profile) took the prize for top album with "Best Fiction."
Higuchi Munetaka (photo right), leader and drummer of the heavy metal band Loudness, died on November 30 of liver cancer at a hospital in Osaka. He was 49. The cancer was discovered in April and Higuchi underwent chemotherapy and surgery, having half his liver removed in June. Higuchi, with school friend Takasaki Akira (47) on guitar, started the idol band Lazy in 1977. A total switch in musical direction came with the formation of Loudness in 1981, centered around Higuchi's powerful drum sound. A pioneer of the heavy rock scene in Japan, Loudness were a huge influence on the stars of today, including X Japan and B'z. Their second album, "Lightning Strikes," entered the U.S. Billboard Chart in 1986 at No.64, the highest entry by a Japanese artist. Higuchi left the band for a while before rejoining in 2000. The band are scheduled to perform at the "Super Peace Festival 2008" in Shibuya on Saturday.
• Singer Ohshima Yuko (20) of the young idol group AKB48 has been hospitalized with acute appendicitis, it as revealed yesterday. She admitted herself to a Tokyo hospital on November 29 and underwent surgery. An actress since she was a child, she has the longest showbiz career of the many members of AKB48, which she joined in 2006. A veteran of dozens of TV dramas and commercials, she still makes regular appearances on TV variety shows. She was booked to do four TV shows on the day she was hospitalized.
• Announcer Takacho Keisuke (24) quit the TV Tokyo network yesterday. A returnee from the U.S., he attended the prestigious Waseda University, where he was also an active lacrosse player. Sources say he had hoped to put his English language skills to good use and work in an international environment. But in comparison to the more numerous female announcers, such opportunities didn't come his way. He is said to be planning to work for a consulting company.