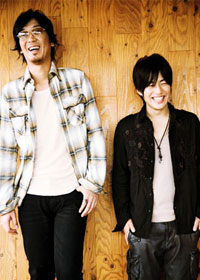 Pop duo Kobukuro finally have a No.1 single, as "Tsubomi" topped the latest Oricon singles chart listing. Though sales of their "All Singles Best" compilation album hit the 2.5-million mark yesterday, their previous highest singles chart entry was "Kokonishika Sakanai Hana", which got to No.2. The duo will kick of a 12-city nationwide tour at Hiroshima Green Arena on June 16. Meanwhile, on top of the album chart is Otsuka Ai (24) with her hits collection "Ai am BEST".
• Baseball player Fujii Shuugo (29) has denied the rumors of romance with TV announcer Watanabe Mari (39). The story was published in yesterday's issue of weekly magazine "Shuukan Post", and said the two were spotted kissing in Fujii's car near the Jingu Stadium, the home base of his Yakult Swallows team. Both celebrities issued statements yesterday saying they were just friends.
• NHK's latest morning drama serial has got off to the worst possible start. Audience ratings for yesterday's first episode of "Dondohare" were 14.9% in the Kanto region and just 14.2% in Kansai. The Kanto rating is the worst in the 43 years of Video Research's statistics and a drop from the 16.9% of "Faito" in 2005. In Kansai, the rating was a drop from last year's "Junjo Kirari", which managed only 14.6%. And doing even worse are baseball's Yomiuri Giants. They only managed to attract a Kanto audience rating of 13.1% for the live broadcast of their 2007 season opener against the Yokohama Bay Stars last Friday. This despite the fact that both teams are based in Kanto and the Giants once commanded annual ratings of over 20%. In Kansai, the opening game between the Hanshin Tigers and the Hiroshima Carp got a rating of 15.6%.