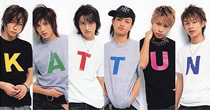 KAT-TUN member Akanishi Jin (22, photo second from left) has returned to the Johnny's fold. Having shocked fans in October of last year by announcing he was going to study English in Los Angeles, he took them by surprise again at the weekend when he appeared on stage with the rest of the group. He returned to Japan on April 19 and made his first concert appearance in almost a year at the show in Miyagi Prefecture. The group's second album, "Cartoon, KAT-TUN II You", entered the Oricon chart this week at No.1. Including singles and DVDs, this is the 10th straight release since their 2001 formation to enter at the top of the charts, an Oricon first. Akanishi is due to make his full return to the lineup for their concert at the Tokyo Dome in June.
• Pop duo Le Couple will probably have to change their stage name. Fujita Ryuji (43) and Emi (43) revealed on their official website this week that they divorced in February after 17 years of marriage. They are best known for the 1997 smash hit "Hidamari no Uta", which was the theme for a popular TV drama series.
• Actress Mizuno Miki (32) and actor Kitamura Yukiya (32) have split up, according to the latest issue of weekly magazine "Shuukan Asahi". Their romance started last summer and was made public when bedroom photos of the couple were found on a mobile phone lost by Kitamura. And it may have been that revelation that led to the split. Because although the media portrayed them as a serious couple with possible wedding plans, it turns out that they broke up about six months ago. Mizuno, who in the past has had relationships with Ito Hideaki (31) and Odagiri Jo (31), has other things on her plate these days. She stars in the upcoming movie "Kuchisake Onna" and next year's Hong Kong flick "Sasori".