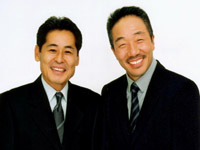 Yoshimoto comedian Nakata Kausu (57) is paying the price for his yakuza connections. NHK has shelved two episodes of a variety show and Yoshimoto have replaced him as an emcee for the final day of "Live Stand '07" a major comedy event that finishes today. Given the current climate following a series of incidents involving members of major crime syndicates, including last week's murder of the mayor of Nagasaki, a recent magazine article on Nakata's friendship with a gang boss has seriously damaged his reputation. The always conservative NHK is wary of attracting any negative publicity and is unlikely to invite him to appear on any more shows. At least not shows like "Variety Seikatsu Shouhyakka", that takes a comic look at everyday legal issues. Nakata made his debut in 1969 as one half of the manzai duo Nakata Kausu-Botan. Though a lot more popular in the Kansai region than in Tokyo, they are an established act and have won several comedy awards over the years.
• A former host of the above variety show is veteran comedian Nishikawa Kiyoshi (60), who is now a grandfather for the fifth time. His daughter Kanako (32), also a TV talento, recently gave birth to her first child. Kiyoshi, his wife Helen (60) and their daughter introduced the baby to the press for the first time yesterday. Kanako is married to pastry chef Hayashi Shigekazu (53).
• Newscaster Kotani Maoko (42) has remarried, to the president of auctioneer Sotheby's Japan. The former JAL flight attendant became popular as a newscaster on the TV Asahi show "News Station" in the 90's. Since 1998 she has been the main newscaster on TV Tokyo's "World Business Satellite". She was previously married from 1993 to 2001.