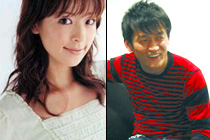 Popular model Tanami Ryoko (32) has married entrepreneur and playboy Nojiri Yoshitaka (34) earlier than expected. We reported here last month that the pair were planning to get married this summer, but they registered their marriage at the local municipal office yesterday. They are said to be looking for a new home in the capital and planning a wedding ceremony in the summer. Nojiri knows a thing or two about nuptial ceremonies, being the founder of the wedding planning company Take & Give – Needs. In 2005 he became the youngest president ever to have his company listed on the first section of the Tokyo Stock Exchange. He is a member of the so-called "Hills-zoku", or Hills Tribe, the rich and famous people based in the Roppongi Hills complex in central Tokyo. He has had a string of widely publicized relationships with celebrities, including actresses Shaku Yumiko (28) and Umemiya Anna (34), as well as TV announcers Uchida Kyoko (30) and Takeuchi Emi (29). Tanami has been a model for magazines such as "JJ" and "Classy" and is considered a fashion leader for Japan's OL's (office ladies). She is also an actress, having made her movie debut starring in "Ame Yori Setsunaku" in 2005.
• The financial troubles of kyogen star Izumi Motoya (32) weren't helped by his recent performances in Okinawa. Yesterday's show at the National Theater Okinawa in Urasoe City, which has a seating capacity of 632, drew an audience of just 250. And with Saturday's turnout of just 120 at a venue on the island of Ishigakijima that seats over 1,000, the brief tour was clearly in the red. There was media speculation that Izumi wouldn't even pay the venue rental fee, though that was settled just before the weekend. We reported here last month on the seizure by tax authorities of Izumi's home and office in Tokyo. His domineering mother Setsuko (64) insisted yesterday that they would fight the decision to the bitter end.
• Iijima Ai (34) has moved on to the next stage of her life. Officially no longer in showbiz as of March 31, she made a pre-recorded appearance on yesterday's "Sunday Japon", on which she had been a regular panelist. She bid farewell to her fellow regulars and denied the rumors of her future plans, such as starting an IT business or moving to New York. She admitted she had looked into the possibility of single motherhood via an overseas sperm bank, but had been unable to understand the English documentation. Her last appearance on the live show a week earlier had been planned as her grand farewell, but it was cut short by the earthquake on the Noto Peninsula.
• Former pin-up girl Matsuda Jun (29) announced on her blog at the weekend that she is engaged to the manager of a scuba diving service. She gave no details of plans for a wedding ceremony.