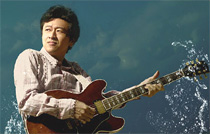 Southern All Stars vocalist Kuwata Keisuke (51) has put out his first original song in four and a half years. "Konna Boku de Yokattara" is being used for the new American Express TV commercial that airs from today. The commercial features Kuwata, who is the first musician to take on the company's image character role previously portrayed by Robert De Niro, Tiger Woods and Watanabe Ken. Two versions of the commercial were filmed in January using locations as diverse as Kyoto, Okinawa and Thailand. The recording is Kuwata's first since the album "Rock and Roll Hero", released in October, 2002. No plans to release the song as a single have yet been announced.
• Tamashiro Chiharu (29), vocalist of the popular duo Kiroro, is expecting her second child in August. She and her fellow Okinawa native husband married in January 2005 and had their first child in February of last year. Tamashiro has been on "maternity leave" since then. Musical partner Kinjo Ayano (29) is also the mother of a young child, born in November 2005. But the duo plan to perform at a one-off event in Okinawa in June, their first concert appearance since two years ago when both were pregnant. Kinjo is releasing a new solo album of piano music today.
• His star may have fallen but Michael Jackson can still rake in the bucks. A spokeswoman for Positive Productions, the company promoting a pair of fan events this week said, "We don't think the ¥400,000 yen ticket is too expensive. It simply responds to Michael Jackson's value as a global star, fans' acknowledgement of that and their willingness to pay for it." Fans can meet the former Prince of Pop at a party on Thursday and have their photo taken with him. Similar events were held last year.