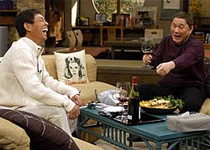 Can one studio really hold these two egos? For the 1,000th edition of his "Sanma No Manma" talk show, comedian Akashiya Sanma (51) has chosen fellow comedy veteran Kitano "Beat" Takeshi (60) as his special guest. The show was recorded in Tokyo yesterday, with the pair sharing a bottle of ¥1.9-million Romanee Conti wine and reminiscing about old times. They both achieved huge fame and notoriety on the "Ore-tachi Hyokinzoku" show in the early 1980s, building on that success to become two of the biggest names in Japanese showbiz. While Takeshi has fitted work as an actor and movie director in between his frequent talk and variety show appearances, Sanma has stuck almost entirely to the variety circuit and remains Japan's most high-voltage talk show host. One of his several regular shows, "Sanma No Manma" has been on the air for 22 years. For some reason the special will air in Tokyo on Fuji TV at the late hour of 2:05am on April 6, though in the Kansai area it will be on March 23 at 7pm.
• Actor Oda Yuji (39) is to team up with actress Iijima Naoko (39) for the first time in 11 years. The pair will co-star in the new TBS drama series "Jodan Ja Nai!", set to run on Sunday nights starting April 15. The romantic comedy tells of 40-year-old Keita (Oda) who marries a 20-year-old woman (Ueno Juri) only to discover that her mother is an old flame (Otake Shinobu). Laid off from his job, Keita finds work at a family restaurant run by Iijima. The last time the two appeared together was in another popular TBS drama, "Mahiru no Tsuki" in 1996, in which Oda co-starred with Tokiwa Takako. A bit of trivia: Iijima is one of those rare people whose birthday falls on February 29.
• Nagabuchi Ayane (18), daughter of singer Nagabuchi Tsuyoshi (50) and former actress Shihomi Etsuko (51), is to make her showbiz debut. And she will hit the ground running, having landed the starring role in the new movie by director Sasabe Kiyoshi (49). The budding actress has studied ballet and Japanese dance and is said to be proficient in English.