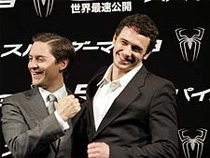 Japanese fans will be the first in the world to get a look at the latest in the Spiderman series. Stars Tobey Maguire (31, photo left) and James Franco (28, photo right) were in Tokyo yesterday as it was announced that the world premiere of "Spiderman 3" would be held at the Roppongi Hills cinema complex on April 16. The movie, again directed by Sam Raimi and originally scheduled for worldwide release on May 5, will now open in Japan first on May 1. Made on a budget of $300 million (¥36 billion), the latest in the series is also the most expensive. But the previous two movies have done very well in Japan, bringing in ¥14 billion between them.
• The drama is turning into a farce. Enka singer Mori Shinichi (59) is going out of his way to apologize to Kawauchi Kouhan (87), but each time he only succeeds in making the elderly songwriter madder than ever. Having previously being refused a meeting at Kawauchi's hotel in Tokyo, Mori and his staff made the 1,200km journey from the capital to his home in Hachinohe but found no one at home (Kawauchi was seeing his doctor and slamming Mori to the media in Tokyo at the time). In the tradition of a visiting guest, he left a souvenir on the doorstep. Yesterday Kawauchi described Mori's intrusion into his home as "ilegal entry", said he had returned the souvenir to Mori's office, and called his recent behavior a "cheap drama" and Mori himself a "liar". He insists he has no intention of meeting with Mori or allowing him to perform any of his songs ever again. The drama began last month when Mori canceled a meeting with Kawauchi at the last minute. He was to apologize to Kawauchi for performing an altered version of his 1971 hit "O-Fukuro-san", though he had already been doing so for almost 30 years.
• The master and the pupil were reunited under new circumstances. Recently elected Miyazaki Prefectural governor Higashikokubaru Hideo (49) was in Tokyo yesterday to receive a special award. Formerly a comedian under the name Sonomanma Higashi, he found himself in the awkward situation of having higher social status than his old mentor, Kitano "Beat" Takeshi (60), who presented him with the award. It was the first meeting for the two since the election, but the always acid-tongued Takeshi took no prisoners, emabrrassing the former Takeshi Gundan member time and again. Another recipient of an award from the master funny man was announcer Yamamoto Mona (35), who is with the same Office Kitano agency. He was the only one who covered for her last year after she was caught up in a scandal with a married politician.