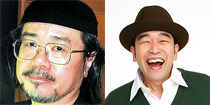 The court battle has begun between legendary manga-ka Matsumoto Leiji (69, photo left) and songwriter Makihara Noriyuki (37, right). Their lawyers met yesterday at the Tokyo District Court with both parties prepared to fight the charges of plagiarism and libel. Back in October of last year, Matsumoto claimed that some of the lyrics to the song "Yakusoku no Basho" were lifted without permission from his famous manga "Ginga Tetsudo 999" (Galaxy Express 999). The phrase used is almost identical to the famous line which translates as, "Time does not betray a dream as long as the dream does not betray time." Matsumoto said last year, "I've been using this phrase in speeches to cheer up young people for more than ten years. I don't want to take the matter to court or anything, but I just want a sincere apology." But Makihara's agency deny any attempt at plagiarism and have called Matsumoto's continued claims libelous, and are seeking ¥22 million in compensation. The next hearing will be held in mid-May. The "Ginga…" manga dates back to 1977 but many TV and movie spinoffs have been put out over the years. Recently, Matsumoto collaborated with French duo Daft Punk on the 2003 full-length anime feature "Interstella 5555: The 5tory of the 5ecret 5tar 5ystem". The major club hit "One More Time" featured a video by Matsumoto.
• Also looking to fight it out in court is actor Hayashi Yoichi (65). He held a press conference in Tokyo yesterday to explain his case against Toto Maintenance. Back in January, the company carried out three days of work on the bathroom of his family's 4LDK apartment in Osaka. But the whole apartment became filled with dust and family members came down with respiratory infections. Hayashi, his wife and four children have been living in hotels since.
• Yesterday actor Emori Toru (63) made his first public appearance since being hospitalized following a stroke a month ago. He attended the 70th anniversary celebrations of the Bungakuza theater company, with whom he had been rehearsing when he had a cerebral hemorrhage in 2005. His latest hospitalization forced him to drop out of a planned TV drama series and give up drinking, but he says he is suffering no after effects. He will begin rehearsal for a new theater production next month.