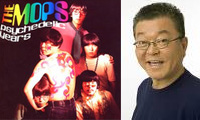 Singer and actor Suzuki Hiromitsu died yesterday of liver cancer at a Tokyo hospital. He was 60. He made his name in the late 1960s as the vocalist of The Mops, a band that was part of the "group sounds" era and introduced psychedelic rock to Japan. They managed to survive longer than any other group of their genre, breaking up in 1974. The members kept in touch after the split, but had not seen each other for some years. The band's songwriter, Hoshi Katsu (58), visited Suzuki in hospital just the day before he passed away. In the 70s Suzuki became a successful character actor and TV talento and appeared in a series of movies and TV dramas. He was found to have cancer just three months ago.
• Actress Daichi Mao (51) is getting married again, and this time is going for a younger man. The former Takarazuka top star announced her engagement to interior designer Morita Yasumichi (39) on her official homepage yesterday. The couple met at the end of last year and plan to hold a wedding ceremony in August. Daichi was married to actor Matsudaira Ken (53) for 13 years until their divorce in December 2003 (best known for his serious samurai roles, after the split Matsudaira went a bit wild, reinventing himself as the sparkling kimono-wearing "Matsuken" and recording a smash hit samba record. He remarried in 2005). Morita, also a divorcee, designs shops and restaurants both in Japan and abroad and his trademark is his shoulder-length brown hair.
• In Tokyo yesterday promoting their latest movie were Hollywood stars Cameron Diaz (34) and Jude Law (34). "The Holiday", directed by Nancy Meyers and also starring Kate Winslett and Jack Black, opens here on March 24.