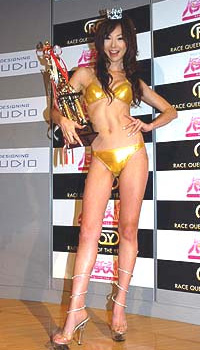 24-year-old Yamazaki Midori is Race Queen Of The Year '06-'07. She was presented with her award at the KDDI Design Studio in central Tokyo yesterday. The award has led to showbiz careers for former winners such as Yoshioka Miho (2000-01) and Morishita Chisato (2001-02).
• JASRAC, the association that protects Japanese artists' copyright, has published an unusual warning on its homepage. Following the demands of songwriter Kawauchi Kouhan (87), the site warns against anyone singing the altered version of his 1971 song "O-fukuro-san". The warning applies to any singer and even the country's thousands of karaoke bars, but of course is indirectly aimed at enka singer Mori Shinichi (59), who has been singing the disputed version of his signature tune for some thirty years. His much-publicized attempts to meet with and appease the elderly songsmith have only resulted in making him more angry. Kawauchi has said he won't allow the singer to perform any of his songs again, a demand Mori has said he will respect until he receives forgiveness. JASRAC recently received attention abroad when it made demands for the removal of thousands of Japanese video clips from the popular YouTube service.
• The recent showbiz baby rush extends to Europe, too. Former popular actress and model Goto Kumiko (32) recently gave birth to her third child in Switzerland. She is married to retired French Formula 1 racer Jean Alesi (42). And former Fuji TV announcer Nakamura Eriko (37) had her second baby this week. She and her French businessman husband live in Paris.