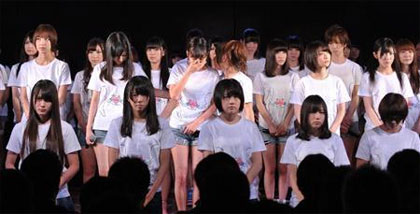 Yesterday was a day of commemorative events across the country as Japan marked the first anniversary of the triple disaster that hit Tohoku at 2:46pm on March 11, 2011. Among the many celebrities helping to mark the occasion and raise funds for the tens of thousands of displaced and the devastated region were Johnny's Jimusho stable of male aidorus and AKB48 and their assorted sister groups.
SMAP were among the top billers of the 180 or so Johnny's stars who took the stage at Tokyo Dome for the 12-hour "Marching J" event. The lineup included youngsters of Johnny's Jr., who have yet to make their debut, to veterans like Higashiyama Noriyuki (45) and Kondo Masahiko (47). The event was attended by an estimated 170,000 fans. Johnny's has raised about ¥826 million over the last year, and the money is to be donated to Miyagi, Iwate and Fukushima, the three prefectures worst hit by last year's earthquake and tsunami. One of the more outlandish plans supported by the funds is the transfer of a panda from China to Yagiyama Zoo in Sendai.
Meanwhile, a total of 282 young female starlets joined together behind the lead of AKB48 to perform at several venues across the country. AKB48 appeared at their home base in Tokyo's Akihabara, and were joined by SKE48 (Sakae, Nagoya), NMB48 (Namba, Osaka) and HKT48 (Hakata, Fukuoka). Needless to say there were lots of tears, with AKB48 member Maeda Atsuko (20, photo center) carried off stage at one point, but the emphasis was definitely on the upbeat and happy sound of J-pop.