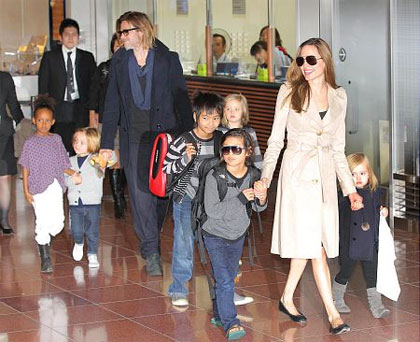 Hollywood stars Brad Pitt (47) and Angelina Jolie (36) arrived in Japan yesterday with their six children in tow. The family arrived at Haneda Airport near central Tokyo in their private jet and were welcomed by about 500 fans. Pitt is making his eighth visit to Japan, and the first in two years, to promote the new movie "Moneyball," of which he is both star and producer. The local media is referring to the couple as the first Hollywood stars to come to Japan with their children since the earthquake and tsunami disaster of March 11. The movie, directed by Bennett Miller, opens here on November 11.
Chilli Peppers x Elgrand
The latest single release from American rockers Red Hot Chilli Peppers is to be used in a Japanese TV commercial, a first for the band. During their 28-year career they have previously allowed the use of material for movie soundtracks but "Monarchy of Roses" will be the first to be used in a commercial. From tomorrow, it will feature in CMs for Nissan's Elgrand line of luxury MPVs. The song will be released here as a CD single on December 14.