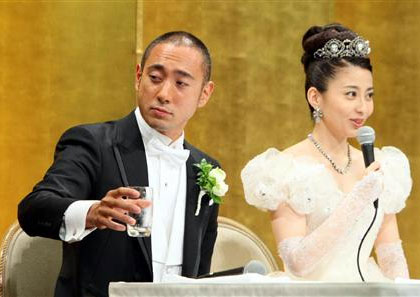 More details are emerging about last week's assault on kabuki star Ichikawa Ebizo (32). It has been reported that he was not exactly the innocent victim he has claimed to be. His provocative behavior included hair pulling and forcing his drinking partner to drink tequila from an ashtray. Police have confirmed a DNA match between Ebizo and the blood found spattered in and near the Minami Aoyama bar where the assault took place.
Meanwhile, the man for whom an arrest warrant has been issued is described as a 26-year-old, half-Japanese, half-American who was a promising soccer player in his youth. A talented but unmotivated striker for the Tokyo Verdy junior youth team, he was thought to have a future in the J-League. But after graduating junior high school, he was increasingly in trouble with the police and ended up as leader of a "bosozoku" street gang. His current whereabouts are still unknown and police are trying to get him to turn himself in.
The kabuki production in Kyoto in which Ebizo was to appear started its scheduled run at the Minamiza theater yesterday. Ebizo's role was performed by Kataoka Nizaemon (66), and the packed house didn't seem to mind the change in the lineup. It means that Kataoka and Bando Tamazaburo (60), two of the leading stars of Kabuki, are teamed up again as they were last year. The decision to go ahead with the production was a given, as tickets for the first two weeks were sold out. Tickets for the closing fortnight, which went on sale Monday, have also been selling well.
The situation with another production scheduled for January is less clear. Ebizo is expected to need about 2 months to make a full recovery following reconstructive surgery on his face. But due to the large number of shows on around the country during the festive New Year season there is a shortage of actors who can take his place for the January 3-25 run at Le Theatre Ginza in central Tokyo. So it is thought likely that he will try to take to the stage earlier than his doctors would like, which of course would delight fans and go some way towards making up for the trouble he's caused the kabuki world.