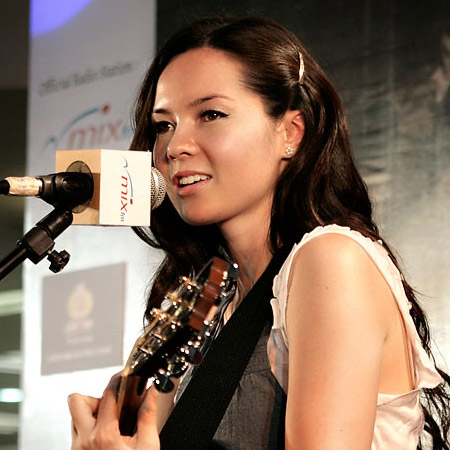 YouTube breakthrough artist Marie Digby (26) has been added to the lineup for this year's SummerSonic festival. The eldest of three daughters of an Irish-American father and Japanese mother, Digby has been to Japan often to visit her relatives in Kumamoto. But this time around things will be a little different. She released her third studio album, "Breathing Underwater," in Japan at the end of June and the SummerSonic show in Chiba Prefecture on August 8 will probably be her first concert featuring music from the album. It isn't due for U.S. release until September, though it was leaked onto the internet in its entirety in April. Digby won a song competition in 2004, and in addition to a cash prize she won the chance to work with a professional producer on an album. She signed with Disney's Hollywood Records the following year but her debut album didn't come out until April 2008. By that time, she had begun to post simple videos of herself singing cover songs of other artists on YouTube in order to gain visibility. The covers, by artists as diverse as Britney Spears, Rihanna, Lil Wayne and Linkin Park, have been viewed more than 60 million times. She released "Second Home," an album of Japanese covers, in March of this year.
Could Marie Digby be the first international "Japanese" star?:
• The marriage of actor Kuroda Arthur (48) to a woman 23 years his junior ended last year, according to today's issue of "Shuukan Josei" magazine. Kuroda got hitched in February 2007, two years after he ended a 3-year relationship with actress Adachi Yumi (27). But the marriage was shorter still, lasting only 18 months. Adachi didn't fare much better – she married comedian Itoda Jun in September 2005 and they had a child the following April. But they divorced at the beginning of this year.