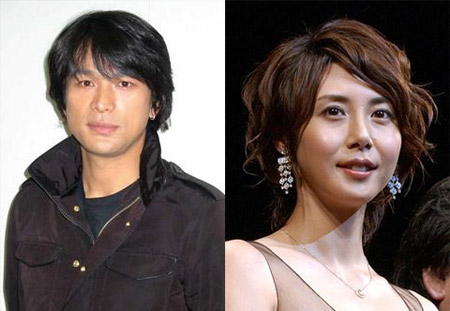 Fuji TV have had to do some major reshuffling of one of their popular summer drama series. When actor Eguchi Yosuke (41, photo left) took a tumble on his motorbike last month, it left the star of "Kyumei Byoutou 24-ji" with injuries expected to take two months to heal. And as he hasn't finished filming the fourth season of the medical drama, it left Fuji with some difficult decisions. They finally decided to replace tonight's opening episode with a old comedy rerun, and from next Tuesday they will show a four-week special series, "Kojima Kaede," based on a character from "Kyumei…" played by Matsushima Nanako (photo right, profile). That spinoff was hastily put together to fill in the gap until Eguchi is back at work again and able to complete the original series, now set to air from August 11. Tonight's 9pm time slot will be filled with a classic comedy show, featuring the Drifters comedy team and guest actress Mori Mitsuko (89), who last week received a National Honor award.
Earlier story:
Eguchi Yosuke vs. Kawasaki Z1-R (Jun 12, 2009)
• Model Matsubara Sumire (18) has earned herself a place at Carnegie Mellon University. The daughter of actor Ishida Junichi (55) and his ex-wife, actress Matsubara Chiaki (51), she will study drama at the world-renowned institution from September. She has lived with her mother in Japan and Hawaii, where she went to high school, since her parents split in 1999. She made her modeling debut in 2006 and dreams of appearing on Broadway.
• Management for Igawa Haruka (33) announced yesterday that the actress gave birth to her first child at the end of June. She and fashion designer Matsumoto Atou (46) married in November 2006.