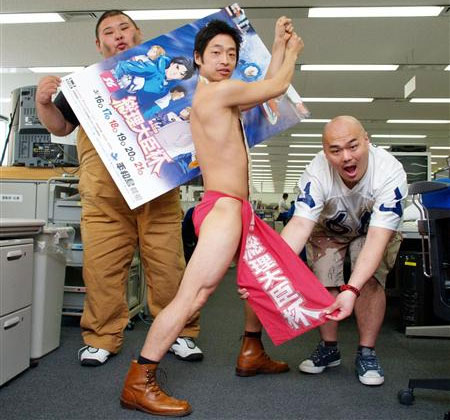 Comedian Yasuda Hiromi (35) underwent emergency surgery on Wednesday for what turned out to be torsion of the testicle. The dancho (leader) of the comedy trio Yasuda Dai Circus experienced extreme pain on Wednesday morning and went to a local clinic. They were unable to diagnose his condition and he was taken by ambulance to a main hospital, where he was rushed to the operating room. The condition, whereby the blood vessels and nerves attached to a testicle (kintama, or golden ball, in Japanese slang) become twisted, needs to be treated within hours or the tissue can die and the testicle has to be removed. After a successful one-hour operation, Yasuda was still in some pain but was expected to be out of the hospital by next week. In his comedy act with partners Hiro and Kuro-chan, Yasuda routinely strips down to a fundoshi (loincloth) and does physically demanding stunts. Once he gets back to work, he will no doubt get some laughs from his painful experience.
• J-pop princess Koda Kumi (26) is finally going to show fans outside Japan what she's made of. The Avex label announced yesterday that she will perform two concerts in Taipei on October 3-4. Koda has been one of Japan's best selling artists of the last few years and has a growing fan base across East Asia. Though she made her international debut with a U.S. release as long ago as 2000, and has made appearances there and in Korea, the Taipei shows will be her first overseas concerts. She finished a Japan tour, with a show that cost about ¥80 million, in mid-June. Her latest single, "3 Splash," has sold over 150,000 CDs and more than 300,000 downloads since it was released Wednesday.
• Last year's Pokemon movie has been recognized by Guinness World Records with the record for the most advance ticket sales by an anime movie. It had made more than ¥2 billion from almost 2.4 million tickets before it opened last July. Like most movie franchises popular with children, a new Pokemon movie is released every year during the summer vacation. The latest opens on July 18 and its theme borrows from the actual solar eclipse that will be visible from Japan on July 22.