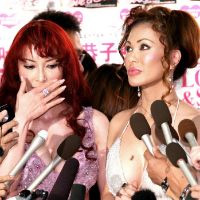 The "Gorgeous Kano Sisters" know that there's no such thing as bad publicity. Yet they insisted yesterday that all the fuss about the missing sister is not a stunt. Harue, the younger sister of Kano Kyoko (44) who said she had trusted her 1000%, is said to have absconded with some ¥500-million worth of her jewelry. Kyoko even reported the matter to police earlier this month. Harue, who worked as a manager for the other two celebrities, went missing earlier in the year along with the borrowed items. The media wanted to talk about nothing else at a PR event for the sisters' latest book, "Love & Sex". All the fuss certainly won't hurt book sales, though Kyoko insisted that it would harm its image. Yeah, right. As younger "sister" Mika wept beside her, she also added that the stress had caused her to lose 5kg in two weeks. Could there be a diet book on the way, too?!
• Another TV network has had to fess up to a "netsuzou" scandal. TV Tokyo president Sugaya Sadahiko (68) apologized to viewers, sponsors and comedienne Yamada Hanako (31) for faking the content of one of its shows. Sugaya will take a 20% cut in salary for one month, while four executives were punished. The show, broadcast on January 6, featured Yamada on a yoga diet, and included what it said was blood samples showing how her circulation had improved, though it was actually a director's blood that was shown. TV Tokyo, which was caught in a similar case in January 2005, has severed ties with Human View, the production company responsible for the show.
• In Tokyo yesterday promoting his latest movie was Hollywood star Nicholas Cage (43). With him was "Ghost Rider" director Mark Steven Johnson. At a press conference, Cage was joined on stage by talento Moto Fuyuki (55), who calls himself a Nicholas Cage lookalike. But standing next to one another, he had to admit the resemblance was non-existant.
• Guns 'n' Roses are following up last year's summer festival appearance with a full Japan tour. Their first Japan tour in 14 years will kick off at the Makuhari Messe convention center in Chiba Prefecture on April 14-15, followed by Nagoya's Rainbow Hall on the 18 and two dates at Intex Osaka on April 21-22. After achieving mega-success in the late 1980s and early '90s, the band broke up in 1993. Vocalist Axel Rose (45) put together a new lineup in 2001 and the Japan shows will be the first of a world tour in support of the upcoming album "Chinese Democracy".
• Singer Suga Shikao (40) cancelled a radio appearance yesterday due to acute bronchitis. He was scheduled to appear on the local radio station FM Sendai, but has been advised to rest. he has a couple of concerts coming up at the end of the month in Tokyo to commemorate the tenth anniversary of his debut.