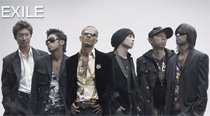 The 1000th single to top the Oricon weekly chart is "Michi" by pop group Exile, which entered at No.1. The ballad was up against some strong competition to grab the landmark top spot. Popular duo WaT teamed up with TV kids' character Gatchapin Mukku to record the No.2 hit, "Kimi ni Okuru Uta". Tenor Akikawa Masafumi (39) has managed to stay in the Top 3. Not only was his "Sen no Kaze ni Natte" the first classical recording to top the chart, it's also the first by a male solo artist to stay in the Top 3 for six weeks running since Fukuyama Masaharu's "Niji" in 2003. The 32nd single from Morning Musume, "Egao Yes Nude", has entered the chart at No.4. They have now made the Top 10 for ten years running, a record for a girl group. Kuraki Mai (24) has seen every one of her 26 singles enter the Top 10, extending her record for a solo female artist. Her latest, "Season of Love", entered at No.6. One spot below is the Japanese debut single from American model Leah Dizon (20). She's been busy on a recent trip to Japan, making appearances in record stores and on TV. The half French-American, half Chinese-Philippina model's self-promotional savvy has worked particularly well in Japan, and she had one of the best-selling photo books of last year.
• Kano Harue, the mysterious "second sister" of the "Gorgeous Kano Sisters", says she has nothing to hide. She visited the Akasaka police station in central Tokyo on Saturday to answer claims that she had absconded with some ¥500-million worth of jewelry belonging to Kano Kyoko (44). She says she only knew about the matter after it was reported in the media last week. Harue, who works as a manager for the other two celebrities, went missing earlier in the year along with the borrowed items, and Kyoko reported the matter to police on February 7. media will be watching for a first public comment from Kyoko on Wednesday, when she is scheduled to hold a PR event for her latest book, "Love & Sex". Wait a minute…there couldn't possibly be a connection between the timing of theses two things, could there?!
• Saturday's live partial broadcast of the wedding between actress Fujiwara Norika (35) and Yoshimoto comedian Jinnai Tomonori (32) managed a high 22% audience rating. It was shown only on Yomiuri TV in the Kansai region, where rain kept many people home. Similarly cold and rainy weather in the capital on Sunday meant good ratings for the first Tokyo Marathon, which reached a peak of 31.3% in the Kanto region. In Kansai, where the weather had cleared up, the figures were less than half.