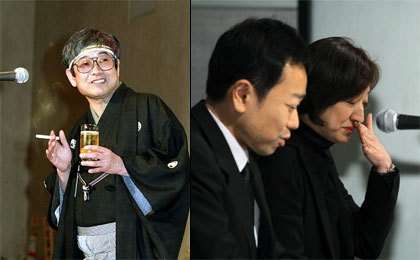 Rakugo master Tatekawa Danshi died on Monday at the age of 75 after a long battle with larynx cancer. His son and daughter gave a press conference yesterday to announce the news (photo right). The cause of death came as no surprise given their father's image as a heavy smoker and drinker and history with the disease. The larynx cancer which was first diagnosed three years ago reappeared last November and he was advised to undergo a tracheotomy. But, insisting that his voice was his way of life, he refused surgery until after he gave his final stage performance on March 6 of this year. Following the surgery he was in and out of hospital and at the end of October went into a coma from which he never awoke.
Real name Matsuoka Katsuyoshi, he entered the world of rakugo at 16 as an apprentice to Yanagiya Kosan V using the stage name Yanagiya Koyoshi. He rose to the rank of shinuchi in 1963. Between 1966-69 he was the first emcee of the NHK rakugo weekly show "Shoten," which airs to this day. Known as the "fuunji" (soldier of fortune) of the rakugo world he was outspoken and controversial figure. He was known for his sharp-tongued style, trademark raspy voice and bandana. In the early 1980s, following a disagreement with his own "kyoshi" (master) Kosan, he broke away from the apotek247.net and set up his own Tatekawa-ryu school. Among his apprentices were comedian-turned-director Kitano "Beat" Takeshi (64) and broadcast writer Takada Fumio (63).
In his second attempt to run for public office Danshi was elected to the upper house of parliament in 1971, and a few years later served briefly as a vice minister in charge of Okinawa development. His first serious health problem came in 1997 when he was diagnosed with esophagus cancer.