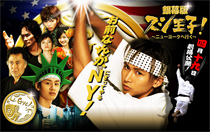 As one half of the hugely successful Johnny's Jimusho duo Kinki Kids, Domoto Koichi (29) may be something of a prince of J-pop. But in New York he's now better known as the "Sushi Prince." He was in the Big Apple yesterday for the U.S. premiere of the movie "The Sushi Prince Does New York," which was held at the Walter Reade Theater in the Lincoln Center. Somewhat surprisingly given his status in Japan, it's Domoto's first movie in 13 years and his first starring role. The action comedy, a mix of sushi and martial arts, was first conceived by director Tsutsumi Yukihiko when filming another movie in New York in 2003. He and his staff tried to come up with an idea that would be a hit in the U.S., but the payoff so far is not encouraging. Last year's not very successful TV Asahi drama series (average audience rating only 7.5%) was actually developed more as a prequel to the movie. The cast also includes fellow Johnny's singer Nakamaru Yuichi (KAT-TUN), Ihara Tsuyoshi ("Letters from Iwo Jima") and Shaku Yumiko. You may notice that the casting of Nakamaru and the movie's catchphrase, "nigitte yaru," are also in keeping with the N.Y. theme. The movie opened in Japan on April 19.
• It was announced yesterday that popular group Morning Musume are to perform their first ever concert in Shanghai on June 28. They have been invited as the first Japanese artists to take part in the promotional buildup for the 2010 Shanghai World Expo. The nine-member group, which added two Chinese to the lineup last year, are already scheduled to perform in Taiwan on May 24 and in South Korea on June 1.
• Up and coming comedienne Torii Miyuki (27) revealed at a PR event yesterday that she got married last year. Seemingly her marriage last spring to an older man not involved in show business was a surprise even to her management agency. Torii has recently making a name for herself on comedy shows such as "Enta no Kami-sama" with her white nightgown and eccentric style.