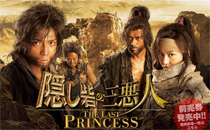 At yesterday's premiere of "Kakushi Toride no Sanakunin – The Last Princess" in Tokyo, it was announced that the movie will be screened in the U.S. later this month. A remake of the 1958 Kurosawa Akira classic, known internationally as "The Hidden Fortress," it was a major influence on George Lucas when he was making "Star Wars." So the new version is to be shown at the Norris Theater at the University of Southern California, the director's alma mater, on April 27. After yesterday's premiere at the JCB Hall, star Matsumoto Jun (24) said he was very excited about attending the event in California along with director Higuchi Shinji. "This movie is a mix that includes some of the best elements of the past 50 years of western cinema. I think it's turned out great and should be well received in America." With a cast that also includes Nagasawa Masami, Abe Hiroshi, and Shiina Kippei and a poster designed by famous manga-ka Inoue Takehiko, the movie opens at theaters in Japan on May 10.
• Hajime Chitose (29) is to provide the theme song for the big movie of the summer, "Climber's High". The song "Hotaru" was written for her by Sukima Switch member Tokita Shintaro (30) after he watched a preview of the movie. Hajime said of the song, "It will melt in your heart, especially if you listen to it in the evening. I hope it will encourage people to think about their families and the important things in life." The movie, based on a best-seller by Yokoyama Hideo about journalists covering the fatal JAL airliner crash of 1985, stars Tsutsumi Shinichi (43) and is set to be one of the major movies of the summer. It is scheduled to open on July 5, while Hotaru goes on sale July 2.
• A segment of the TBS anime series "Code Geass" was mistakenly leaked on the Web this week. About five minutes of episode three of "Code Geass: Lelouch of the Rebellion R2", due to air on Sunday, was accidentally uploaded to a video sharing site by an employee of Bandai Channel on Tuesday. The company is in charge of online distribution of the anime. Ironically, the employee is said to have been checking for illegal video postings at the time.