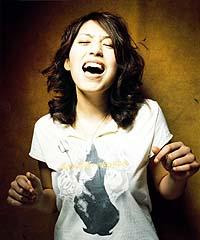 How new is Fukuhara Miho? Well, she doesn't even have an entry on the Japanese version of Wikipedia…yet. But "Change," the debut single from the 20-year-old R&B singer, will soon change that. It's a "power play" on 33 FM radio stations nationwide this month, the most ever for a new female artist, and one listen to her powerful vocals proves that it's not just empty hype. She certainly stands out from the majority of J-pop artists, and with the heavy promotion from Sony Music the song should be a big hit. Though yesterday's release was her official debut, she did take part in last year's Celine Dion tribute album, covering the song "Because You Loved Me." And needless to say, Fukuhara's youth and good looks certainly won't do her career any harm.
• Hollywood star Sylvester Stallone (61) is coming to Japan next month to promote the latest, and final, movie in the Rambo series. He will be arriving in Tokyo on May 6 and will attend the movie's Japan premiere at the Toho cinema complex in Roppongi Hills on May 8.
• It was revealed yesterday that announcer Mekata Yoriko (48) got married to a fellow NHK staffer earlier this month. She and financial commentator Yamada Shinji (58) tied the knot on April 5. It's Mekata's first marriage and Yamada's second. Mekata is a presenter on the nightly "Fukushi Network" show.
• Koda Kumi (25) has provided the theme song for the upcoming TV Asahi drama series "Puzzle". Currently on a nationwide tour, Koda is keeping the song "Moon Crying" under wraps until the series starts tomorrow. It is scheduled to go on sale as a single in June.