Musicians
Hajime Chitose
(Kagoshima Prefecture, 1979- )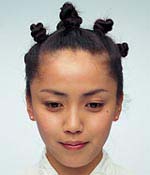 Hers has been described as a "once-in-a-century" voice. It has been known to reduce those who hear it to tears. Certainly the rise to fame of this unassuming island singer has been attributable to the unique, plaintive tremolo quality of her distinctive singing style. Passing the usual route of having a single used in a TV show or commercial, Hajime's breakthrough came through word of mouth. It took a few months, but her single Wadatsumi no Ki gradually crept up the charts. It actually reached the No. 1 spot and stayed in the top 10 for three months, a very rare feat.
Hajime went to a school that had four students. At her entrance and graduation ceremonies, she was the only participant. Such was life in her small community on the island of Amami Oshima, off the south coast of Kyushu. With the encouragement of her mother, she started to learn to sing and play the shamisen at an early age. Music was very much a part of the island culture and its best known form is shimauta.
Meaning literally "island song", shimauta appeared on the J-Pop radar in the 1990s when a song of the same name became a huge hit for the band The Boom. It remains one of the most original and fresh-sounding Japanese songs of recent years. Originating in the southern islands of Kagoshima and Okinawa, the style evokes the tropical climate and warm nature of the people.
Hajime started to learn the shimauta style while still in elementary school and was soon winning prizes at the local minyo (folk song) song contests. A report on the late-night Tonight II TV show brought the attention of a record label, but she turned them down. After graduating high school, she went to Osaka to study to become a beautician. But a spell in hospital that she was told had been caused by the chemicals of her chosen trade persuaded her to follow a new path.
This time, she headed for Tokyo and was quickly signed up by the independent Augusta Records. She spent the next couple of years writing material and working towards making her recording debut. Her first eponymous mini album was all cover versions but her slowly growing fan base called for something original. A second mini album Kotonoha was released in the summer of 2001 and a series of indie events followed.
The next year saw her major label debut, with the release of the album Hainumikaze on Epic Records, which featured her breakthrough single. She was also invited to sing on the fourth album by French duo Deep Forest, marking her debut on the international stage. She was just reaching something of a peak in her career, having established herself, when she sort of disappeared in late 2003. She surfaced again at the beginning of 2004 to annnounce that she was already six months pregnant and about to get married, which she did in January 2004. Her new husband was a restaurateur also from Amami Oshima, though they met at his dining-bar in Tokyo. The pregnancy tragically ended in a miscarriage, but she was pregnant again just a few months later and had a baby in January 2005. She spent most of that year as a full-time mother before releasing her first single in 2 years and 3 months in November 2005. Katarisugu no Koto (Hand-me-downs) was the ending theme of the anime "Blood."
---
Links