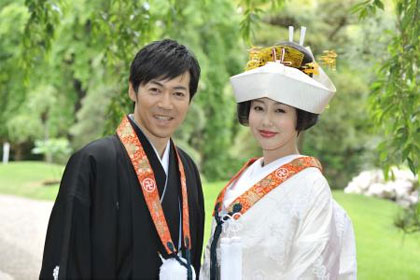 It was a busy day yesterday at the Sensoji temple, a popular draw for tourists in the old downtown area of Tokyo. Celebrity couple Azuma Takahiro (42) Max and Yasu Megumi (30) held a traditional wedding ceremony at the temple, while several kabuki stars held ceremonies to commemorate their succeeding to new stage names.
Azuma, popularly known by the nickname Azumax, was born and raised in Asakusa and it was also where his late father, comedian Azuma Hachiro (1936-88), established his career. For the wedding ceremony at the Sensoji Denbouin, veteran comedian Hagimoto Kinichi (71) stood in for his old teacher and friend. Azuma and Yasu registered their marriage on December 20 last year. They plan to hold a large reception n July.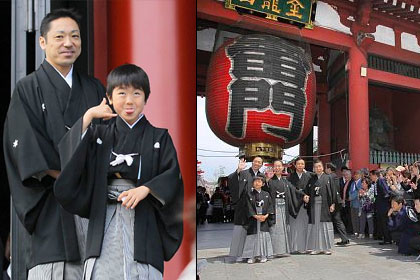 Meanwhile, actor Kagawa Teruyuki (46) visited Sensoji to pray for success with his upcoming succession to the kabuki stage name Ichikawa Chusha IX. Along with his son and several other members of his family he will take on the new stage name at the June Grand Kabuki at the Shimbashi Enbujo theater. He was joined yesterday by his son (8), who will make his kabuki debut as Ichikawa Danko, his brother Ichikawa Kamejiro (36) who will succeed to the name Ichikawa Sarunosuke IV, and his father (72) now using that name, who will become Ichikawa Enou II.
A successful and popular TV and movie actor, Kagawa is making the unusual move of entering the traditional theatrical world in middle age, while many of his contemporaries have made the move in reverse. He said he is feeling immense pressure and realizes that kabuki is many times more difficult than the acting he has done so far, but he vowed to fulfill his responsibility to carry on the family tradition.