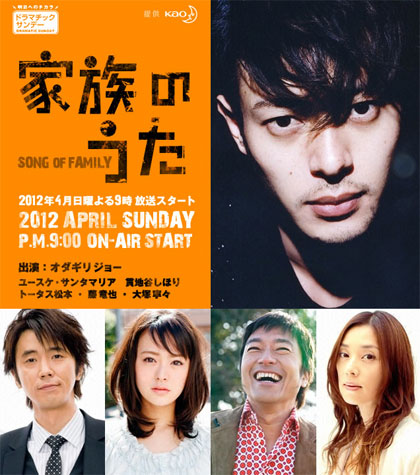 The audience figures for the Sunday night Fuji TV drama series "Kazoku no Uta" (Song of Family) continue to get worse. The series has seen its ratings decline to what could be an all-time low for the most coveted primetime slot of 9pm. The first episode only managed a rating of 6.1%, and that has steadily declined to last night's 3.1% rating for the fourth episode, all bad news for the powerful Fuji network and the star of the series, Odagiri Jo (36, photo top). The show's cast also includes (photo bottom, l-r) Yusuke Santamaria (41), Kanjiya Shihori (26), Tortoise Matsumoto (45) and Ohtsuka Nene (43).
Part of the problem has been the competition from the other networks. Over on TBS, the rival drama series "Ataru" – which started its run with a strong 19.9% – managed to pull in 13.8%, while the NTV variety show "Gyoretsu no Dekiru Horitsusodanjo" got 14%, and TV Asahi had the strongest figure of 19.1% for its broadcast of the movie "Aibo 2." An NHK documentary about children living in the aftermath of last year's Tohoku disaster and a TV Tokyo family reality show also managed noticeably better figures than Fuji.
A Fuji spokesperson identified one possible cause of the bad ratings. "There have been claims that the show is very similar to the 1987 series "Papa wa Newscaster" and this led to criticism circulating on the internet." Fuji currently plan to broadcast the full 11 episodes of the series. So far they have not announced any plans for "tekoire," a word to describe adding new cast members, making dramatic shifts to the storyline, carrying out mass-media promotion, or other ways of boosting a flagging show.
Veteran Comic to Wed
Comedian Nakamoto Koji (70) has set the date for his third walk down the aisle, as it was announced yesterday that he and his much younger fiancee are to tie the knot on July 14 at the Shin Takanawa Prince Hotel in Tokyo. Enka singer Midai Junka hasn't revealed her actual age but she is said to be in her early 40s.
Nakamoto's first wife died in 1981 and his second marriage – to a woman 25 years younger – lasted from 1991-2004 and they had three children. His close friend, and fellow member of comedy troupe The Drifters, Kato Cha (69) married a woman 45 years younger just last summer and they held their wedding reception in March.
Related stories:
Kato Cha Reveals Young Bride (Mar. 2, 2012)