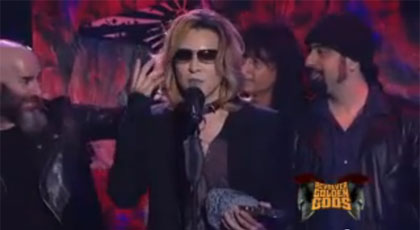 Rockers X Japan were named as this year's Best International Band at the Golden Gods Awards yesterday. Started in 2009 by the rock magazine Revolver, the awards were held on Wednesday night at Club Nokia in downtown Los Angeles. Not only were X the first Asian artists to be nominated for the award, they beat a lineup of established names familiar to anyone into the heavy rock genre: Rammstein (Germany), Sepultura (Brazil), Lacuna Coil (Italy), Behemoth (Poland), and Meshuggah (Sweden).
Drummer and band leader Yoshiki was on hand to receive the award from the members of Anthrax, one of whom quipped "You know this is a setup" before reading X Japan's name among the nominees. Yoshiki didn't respond to (or didn't understand) the underhand comment and made a simple acceptance speech. "Thank you Revolver, it's hard to pronounce. Re-vol-ver, right?" he said. "Some people might have heard of us, we're from Japan. Our band name is X Japan. We toured North America in 2010, and did our first world tour last year… We are planning on doing another world fucking tour." He finished up by thanking the band's fans, saying, "We're going to keep on rocking. And we fucking love you."
But while X have a cult status at home and a fanatical international fanbase, imagewise they will probably always struggle to find acceptance among mainstream rock listeners. That was evident from the subdued applause given to the hair-flicking and characteristically effeminate Yoshiki. And someone should tell him that throwing a few F-bombs into your speech isn't going to help much.