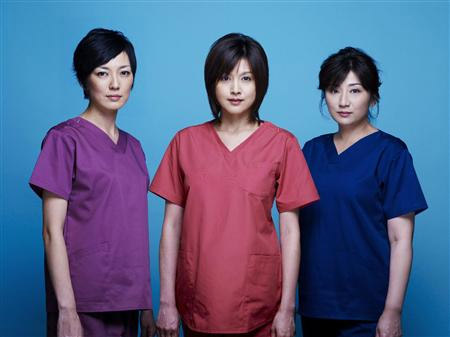 Actress Fujiwara Norika (38, profile) has been busy getting herself back in the game since her divorce from comedian Jinnai Takanori (36) in the spring. She was recently featured in some particularly revealing "Cabaret" style photos, but we can assume that she will be dressed a bit differently for an upcoming TV role announced yesterday. In her first TV drama series appearance in two years she'll have the starring role as a gynecologist in NTV's "Gyne – Sanfujinka no Onnatachi." The role is described as a serious, even cold-hearted one, and Fujiwara is said to be getting into it. As part of her preparation, she recently attended a birth by cesarean section. A producer of the series said, "This could well be the role that defines her career." The strong cast also includes Itaya Yuka (34, photo left), Matsushita Yuki (41, photo right), Nakamura Hashinosuke (44) and Yashima Norito (38). The series will air on Wednesday nights from next month.

Earlier story:
Jinnai, Fujiwara Marriage to End After 2 Years (Mar. 19, 2009)
• Well, we're into September and I saw my first Christmas tree of the year the other day, so it must be time for…Kohaku Uta Gassen announcements. NHK's annual New Year's Eve concert may not be the compulsory viewing it once was but it's still one of the TV highlights of the year. And, always in search of a new gimmick, this year NHK have decided to start five minutes earlier than last year. So starting at 7:15pm and ending at 11:45pm, with a five-minute news break, the 60th edition of the show will be the longest yet. The theme for this year's show is "the infinite power of song."
Hollywood star Hugh Jackman (40) was in Tokyo yesterday for the Japan premiere of "X-Men Origins: Wolverine." Local guests at the event included actress Kawashima Naomi (48) and actor Sato Ryuta (29). As Japan is said to have been decided as the location for the next X-Men movie, Sato made sure to put his bid in for a role.